Gold on repeat
Fighting Hawks volleyball wins Big Sky championship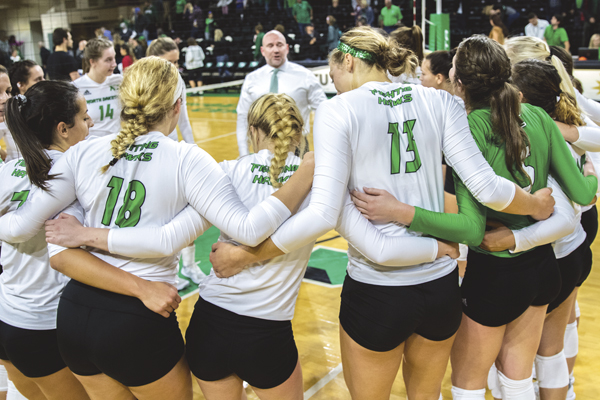 SACRAMENTO, California — The UND volleyball team clinched the Big Sky Conference championship after a contentious five-set matchup against Sacramento State late Saturday night.
Though the Fighting Hawks won the first set, Sacramento pulled ahead and won the next two. UND rallied to win the fourth and fifth sets to earn their second consecutive Big Sky Conference title.
With a career-high 19 kills and seven blocks in Saturday's championship, middle hitter Faith Dooley was named Big Sky tournament MVP. Senior setter Sydney Griffin earned her second career triple-double with 56 assists and 11 digs.
The Fighting Hawks Big Sky Conference record now stands at 12-4 and 30-7 overall as they advance to their second berth at the NCAA Division I volleyball tournament. Their opponents will be announced during the NCAA Selection Show on Sunday, Nov. 26.
Nick Nelson is the photo editor for Dakota Student. He can be reached at [email protected]