The new Hawk has landed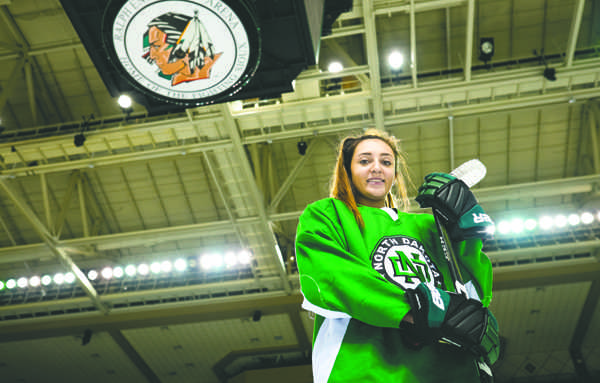 There's no doubt the University of North Dakota women's hockey program has welcomed the strong efforts from their underclassmen this season, including freshman forward Ryleigh Houston.
Houston wasted no time getting acquainted with the North Dakota style of hockey by snagging her first goal of her career in her first game of the season
with the team efforts of senior line mate Amy Menke.
"We were on the power play and I just gave the puck to Amy and I jumped to the middle of the ice and she fed me this beautiful pass. I didn't really have to work hard for my goal," Houston said. "I ended up putt ing it in and falling on my face, but then I got up and it was a surreal moment."
Houston has earned her place in the lineup, playing in all six games this season and scoring one goal and assisting another.
The dream is now set in full swing and reality has sunk in, Houston is a Fighting Hawk and this is her time to represent UND to the best of her ability.
"It's always been a big dream of mine to play here, ever since I started high school I always wanted to play college hockey," Houston said. "Coming here was a dream come true, I'm really happy here."
Prior to attending UND, Houston took on a much greater responsibility by suiting up in her Hockey Canada jersey and representing her nation.
"Representing Hockey Canada and having my parents there, putting on that jersey for the first time is an honor" Houston said. "Being able to represent my country while also being committ ed to the University of North Dakota at the time and having the opportunity to represent them."
Houston had already announced her commitment to the UND hockey program so she was given the chance to show everyone what the Fighting Hawks were to expect in the upcoming seasons.
With a successful hockey career so far playing for Balmoral Hall and Team Canada, The new Hawk has landed there are still nerves about scoring and succeeding with a new hockey program.
"I definitely came into the games worried about not scoring but after the first one came it was like a weight lifted off me," Houston said. "Then again just winning the game and all the team effort we had was great."
Having a great team behind her, Houston found a way to keep calm and adjust to her new program, new school and new lifestyle.
"It's a lot easier since I'm so close to home but there's an adjustment to living on my own," Houston said. "It hasn't been as hard as I thought it'd be. Having these girls here with me has helped quite a bit."
Being just a stone's throw away from home doesn't just help Houston but also her fan base back in Winnipeg, mom and dad.
The Houston's have already punched their tickets for the women's season ahead with plans to attend every game at the Ralph and on the road.
"My parents are always in my corner," Houston said. "There always there supporting me no matter where I am. They'll always make the trip down and I think just having them around really helps me."
Parents are a big influence when student athletes commit to a university to extend their athletic career, and for Houston it was no different.
UND is close to home for Houston, a native of Winnipeg, but finding a second home was something she never thought she'd get out of a university, until she stepped onto UND's campus.
"Ultimately, coming to my decision I always knew where I wanted to go," Houston said. "As soon as I came here the first time it felt like home."
Houston will continue to suit up as a Fighting Hawk in hopes of contributing to the best of her ability, continuing against WCHA top spot rivals Wisconsin Badgers this weekend, Oct. 22-23. Puck drop is scheduled for 2:07 p.m. for both games.
Allyson Bento is the sports editor for The Dakota Student. She can be reached at [email protected]