Rally for acceptance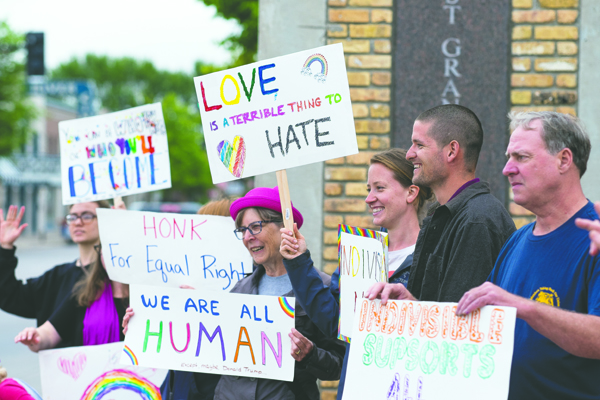 "Love is a terrible thing to hate" was one of many hand-painted statements on display Saturday afternoon at an equality rally in East Grand Forks.
Hosted by Gender Friendly Grand Forks (GFGF) and Indivisible Northwest Minnesota, the rally was in support of issues including women's rights, assistance for transgender and queer youth in education and human rights for all.
"Today is just another way of bringing the Minnesota side together into our family of groups on the North Dakota side with similar interests," GFGF advocate mentor Theresa Mitchell said.
The organization, which works with campus groups such as the Ten Percent Society (LGBTQ+ support group), provides support and assistance free of charge for transgender people in the Grand Forks community.
Concurrent with other Grand Forks Pride events, Saturday was picked as the date for the rally because it also fell on Women's Equality Day, which celebrates the adoption anniversary of the 19th Amendment – guaranteeing the right to vote to all United States citizens regardless of sex – to the Constitution in 1920.
"I think it's important for students in this region generally to understand that trans rights, that women's rights, are human rights," Josh Melgaard said.
Melgaard is the team leader for the LGBTQ+ Values Action Team at Indivisible Northwest Minnesota, a local branch of the Indivisible movement created as a response to the 2016 presidential election of Donald Trump.
Indivisible Northwest Minnesota supports initiatives such as Minnesota's Department of Education recently approved "Toolkit For Ensuring Safe and Supportive Schools for Transgender and Gender Nonconforming Students."
The toolkit was developed as a response to growing concern about incidents of bullying in Minnesota schools. Among the items offered in the non-binding toolkit are the use of personally approved names and pronouns, inclusion in school activities and access to essential facilities (e.g. restrooms and locker rooms) per an individual's gender identity.
Locally, the demand for groups such as GFGF and Indivisible Northwest Minnesota is real.
"For the last two years, we have been trying to get into schools (on) a group basis," Marshall said. "We have a lot of transgender students who come to our group – we associate with a lot of teenagers."
At the conclusion of the rally, Melgaard led participants – young and senior – in a march eastward to the American Legion for other Pride festivities; hoisting signs and a billowing transgender pride flag as cars passed on DeMers Avenue. Though falling on a gloomy, rainy day, public response to the rally was sunny with numerous motorists honking in support. Marshall summarized the need for Saturday's rally and the ideals it represented simply, "What I think it really comes down to is acceptance."