Chester Fritz Library undergoes renovations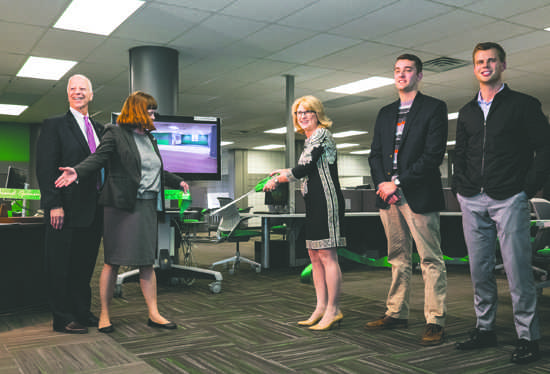 The unusual commotion and voices mingling brought attention to the west side of the Chester Fritz library's second floor. The abnormally large student presence dispersed behind a pastry table and red ribbon set-up to remove themselves from the distractions they had just found escape from in the newest addition to UND's campus.
Staff and students witnessed the completion of initial improvements to UND's iconic library Tuesday at a ribbon cutting ceremony after more than 35 years of neglect, the beginning of a larger master plan to "gut-out" and renovate the entire library throughout the coming years.
Completed Tuesday was an interior upgrade to the resource center of the library's second floor. Carpeting, walls, electrical and furniture improvements were made to better accommodate students in one of the most heavily utilized parts of Chester Fritz, evolving the space's atmosphere to match 35 years worth of changes and create a learning environment more conducive to student learning.
"The concept of a library has changed dramatically over the last 25 years," Thomas DiLorenzo said, Provost and Vice President for Academic Affairs. "The students felt that we had made some renovations across campus to make some places to study but they wanted the library to be a central student success space, so renovations were needed."
Newly arrived Dean of Libraries and Information Resources Stephanie Walker plans on using her decades worth of experience to turn the library around. She has taken a lead role in remodeling at least five libraries across the country so far in her career and is excited about the potential for UND's iconic library.
Walker has taken the helm on the $42 million project which includes everything from seeing through repairs to the building's foundation, plumbing, electrical, heating, ventilation and air conditioning system to modernizing the catalog system to remove out out-of-date resources and making room for open-architecture study spaces.
"We want to make it a nice environment to study in, not something that looks like a hodgepodge of multiple years on carpet and whatever was on sale," Walker said.
Originally built in 1959 and renovated in 1981, the Chester Fritz has seen better days. For the students studying throughout who pay over $8,000 per year for their college education, there was a clear consensus of frustration about how neglected the library had become. The concern does not stop with students, though.
"There was so much interest in getting other things going—things that are definitely important for the university—I don't think there was a focus on library," Walker said. 
Although the funds have not been raised, Walker and her team have been working since her arrival in Sept. 2015 to raise the necessary dollars and reach out to donors for contributions for the future of Chester Fritz.
"They wanted great places to study, to work with other students in teams, to have electricity at ready access and be close to be close in proximity to people and services and collections that could help them with their studies and research," Dilorenzo said.
Student body president Brandon Beyer, who was able to collect an award of $15,000 for UND that went toward the recent renovation of Chester Fritz, spoke at Tuesday's ribbon cutting on his appreciation for the faculty and staff members who recognize the importance of on-campus open educational resources.
Immediate reactions from students studying in the new space had overwhelmingly positive things to say.
"It's different, but definitely a good different. They used the space well to incorporate different types of furniture that will accommodate the different needs of students," student Haley Corcoran said.
While the status of technological advancements will continue to keep reinventing the utility and purpose of a library, UND faculty are recognizing the importance of adapting to these changes.
Already, $1 million from UND's budget has been directed toward renovations at Chester Fritz for this fiscal year. Walker and her team plan on addressing concerns directly related to the health and integrity of the building itself, eventually working into renovating the east side of the library and then working west as more funds become available.
"This is the beginning of the first completed renovation," Dilorenzo said. "Think of this as the kick-off. We can't break ground on renovation, but we can cut ribbons and raise funds."
Declan Hoffman is a staff writer for The Dakota Student. He can be reached at [email protected]