Koselig kicks-off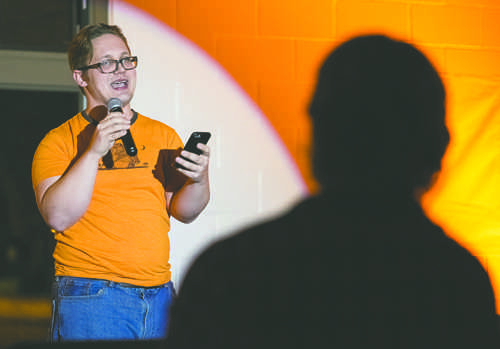 The bitter winter has taken the week off, leaving Grand Forks in a slushy state.
Pedestrians are now able to walk about the town without needing to wear a face mask or even a third layer of clothing.
In appropriate fashion, the poetry series Koselig kicked off on Saturday in the warming house of University Park.
A little over 40 people gathered in the humble structure at the park to listen and interact with the works of up-and-coming poets.
The night featured three poets: local Grand Forks poets Jared Fladeland and Elliot Houle as well as headliner Brian Sonia-Wallace.
Before the performances began, audience members were welcomed with the alternative music styles from the late 90's to early 2000's. Guests were also offered complimentary coffee, described as "hot bean water," from Archives.
None of the overhead florescent lights were on. The only lights in the rooms were red stage lights facing the wall and the lone spotlight lighting the stage.
The first performer was Jared Fladeland. He walked to the front and began reciting his more recent poems off of his cell phone.
"Before I begin, you should know two things about me," Fladeland said. "One: I've studied clowning. Two: I've recently gone through a break-up."
It didn't take long to notice how important those themes would play in the next 10 minutes.
On this particular night, he was not in clown garb or throwing any pies. Instead, his poems talked about how being a clown has affected his love life since his break-up.
"I keep bouncing back," he said. "I keep on fighting. I keep my heart open to complete heart break."
While being a clown was his career and not a character that night, his themes were consistent.
"I live openly and honestly for all to witness," Fladeland said. "So that maybe we can breathe a little deeper, feel a little more comfortable in our skin and remember what's most important in the world: laughter."
Many in the audience were already familiar with the poetry environment, as indicated by the almost choreographed snapping that followed popular lines.
In a strange twist, one of the crowd members, Logan Anderson, was there to support his friend Elliot Houle, but was unfamiliar with his work.
"He's quite a character," Anderson said. "I guess that's part of what I look forward to tonight: is to hear his work."
Houle's approach to the stage was polar opposite to the prior poet's, Fladeland.
Where Fladeland would rock back and forth and talk about clowns and his recently-disturbed love life in a lighter tone, Houle was more somber.
The dark-clothed, long-haired Houle approached the stage smoothly and quietly. Similarly to how a young Professor Snape would walk the halls of Hogwarts.
Even the way he brought a chair to the stage set the tone.
"I'm gonna sit down, 'cuz s***'s about to get emotional," Houle opened.
He read from his first anthology, "Tales of a Cucumber Crew."
The book is composed of a series of short poems Houle wrote from various inspirations, including "whiskey dreams."
His work could be described as "Green Day" poetry.
As Houle read from his book, he would hunch over the microphone to the point where the fold in his wool hat covered his eyes. All the more impactful.
I felt bad for the latecomers who arrived in the middle of his set without context of what was going on.
Between poems, he would make dry quips to people in the audience (mostly the late-arrivals) which were followed with laughter.
The laughter—after much thought—must have been the brains way of coping with everything else being said.
The final poet of the night was Brian Sonia-Wallace.
Where the two other poets had more rhyme in their works, Sonia-Wallace practiced improv and rhythm.
The theme for the first half of his work centered on the impact of electronic communication on children.
Sonia-Wallace first minute was him meekly walking around the stage without saying a word, giving off a sense of nervousness and shyness; depicting the character of a child incapable of socializing.
He then jumped into a story/argument supporting chatrooms and electronics "raising children." He argued that a person's hometown roots can be planted in a Skype chat box, allowing those too quiet to talk can still learn social skills.
"The thing about growing up rootless, is you lose your fear of going out on a limb," Sonia-Wallace said.
The final portion of his set was a round of his improv poetry. The audience would suggest words for a theme, and he would use an old-school typewriter to make up a short piece.
The audience snapped in approval.
Jacob Notermann is a staff writer for the Dakota Student. He can be reached at [email protected]