Halloween carnival held for kids at UND Wellness Center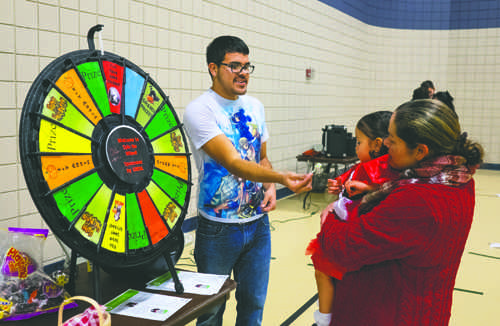 In an effort to bring the community together and celebrate the scariest time of the year a bit earlier than usual, UND Indian Association (UNDIA) partnered with UND's Wellness Center to provide a night of Halloween carnival activities for the young trick-or-treaters of Grand Forks, with candy and prizes for all.
The event, advised by staff member Darleen Nelson of American Indian Student Services (AISS) and organized by Gavin Nadeau with UNDIA, has been running since well before Nelson's arrival to UND 15 years ago and also includes participation from at least seven other student organizations on campus.
"The turnout has been great," Nelson said. "It seems like the kids are really enjoying themselves and I love seeing all the diversity that's here tonight."
Setup throughout the Wellness Center were various Halloween spirited activities. Everything from a bean bag toss, candy bar walk, spin wheel to 'knock down the ghost' were spread out for the young participants to compete against each other in. The activities were each sponsored by an individual student organizations, totaling up to eight.
Native American Law Student Association (NALSA), Native Americans into Criminal Justice Association (NACJA) and American Indian Science Engineering Society (AISES) were some of the highlighted student organizations at Friday's carnival. Although being divided by their objectives on campus, everyone helping to arrange the Halloween carnival did so with similar interests.
"I like giving back to the community," Amanda Young, a UND Indian Association member, said. "It's a fun and safe event for all the kids. They all look like they're having a great time and everyone will end up winning something tonight."
Having spent the past 15 years of her professional career on staff in the American Indian Studies Student Services center at UND, Nelson has also advised the Halloween Carnival for that entire time. Although she has a vast amount of experience in the department, with the student organizations and running this event particularly, Nelson is adamant about ensuring the focus be on the members and their ideas.
"It gives members of the community a chance to see what it is that the student organizations do and it gives them a different look at how fun UND can be to attend for school," Nelson said.
A strong focus of UNDIA is rooted within maintaining a strong outreach with the community. The organization works to "promote a better understanding of cultures between students, faculty, staff and the greater Grand Forks region," Nadeau explained.
The organization takes every opportunity it can to lead campus events when it means being able to strengthen the ties between the American-Indian population at UND or among Grand Forks citizens and surrounding the community.
"I'm a people person, so the simple fact of talking, playing, and, overall, having a good time with the community is worth looking forward to," Nadeau said. "I like to see the enjoyment on people's faces."
Declan Hoffman is a staff writer for The Dakota Student. He can be reached at [email protected]