Community culture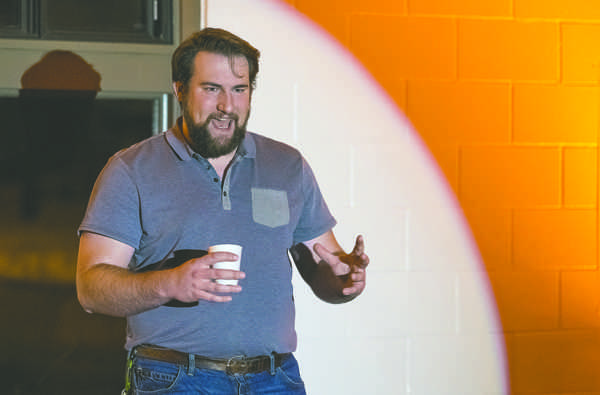 Over the years, Marcus Wax, a Grand Forks native, has taken a hard look around and wondered how he could improve the community he loves.
Wax decided that the best way to improve his community was to bring the residents together for a day—or three—of fun. With that, the idea for the first annual Koselig, an event meant to serve as a celebration of the arts, was born.
As it turned out, Wax wasn't the only one that wanted to see some change take place in the community. Along with financial donations, Wax has received numerous at-cost donations, including coffee and pastries for the event from Archives Coffee House.
Backspin Productions—a DJ, entertainment and lighting company—even offered to wave the labor costs of setup and teardown for their entertainment and lighting services.
When asked why he decided to call the event "Koselig," Wax gave his response quickly and confidently, hinting at the notion that he had thought his reasoning through as fully as possible.
"A nod to the local Norwegian heritage; a feeling of warmth, coziness and entertainment," Wax said. "It's exactly what you want to encourage: people getting together in an intimate environment, shoulder to shoulder."
"
"If you're not willing to help build and sustain the community you want to live in… why are you here?"
— Marcus Wax
Coming together
Between balancing his job as General Manager of Yellow Dart Industries, a contracting firm in Grand Forks, and creating and running Koselig, Wax has his hands full these days. But if the responsibilities are stressful for him, you'd never suspect so after a conversation with him.
When asked why he would dedicate so much time and effort into creating and overseeing an event like Koselig, Wax leans back in his chair and carefully contemplates his words before simply saying, "It's the right thing to do."
Wax is a strong advocate for community culture. He believes that bringing people together and bettering one's own community is vital.
"If you're not wiling to help build and sustain the community you want to live in…why are you here?"
As an astute observer of his community, Wax has noticed areas that he believes could stand to see some improvement. But rather than simply noticing where he would like to see progress made and waiting for someone else to accomplish it, Wax is taking matters into his own hands.
"If you want to see a change, be a change," Wax said. "That's how it starts, that's how it happens."
With ambitions of rebuilding University Park as a place where the community can gather, Wax has taken it upon himself to "be the change" he wants to see in Grand Forks.
"University Park is one of the gems of the system," Wax said. "People appreciate it in their own way."
Upcoming events
With the spoken word event on Jan. 21 completed, Wax points out the two upcoming events he has planned for Koselig.
On Feb. 11, Wax is hosting an outdoor event. Wax hopes the community will come out to enjoy a day of activities in the snow while also enjoying some coffee and snacks.
"Definitely leveraging the fact we've gotten so much snow this year," Wax said, "and a lot of it has had to be scraped off the university warming house parking lot."
With an obstacle course planned and snowman supplies ready to go, Wax is anxious to bring the community together while keeping things fun and simple.
"Take a snow day," Wax said, "nothing particularly fancy about that."
Along with the Feb. 11 event, Wax is hosting a final event on Feb. 25. This time, the event will feature local hip-hop artists, Zen People, in a performance that will send them off on a Midwest tour.
"They're top local talent," Wax said. "It's exciting and interesting how many artists make a living by what they do."
Along with Zen People, performances from Jantzonia, Real Truth and Cold Sweat, featuring DJ New Reign, are expected to take place. While Wax is excited to enjoy some music, he has another goal in mind as well.
"I'm hoping to generate a bit more of a local live music scene," Wax said.
Local inspiration
As a local music fan, Wax used to frequent the Hub, an establishment in downtown Grand Forks that closed its doors months ago, only to reopen as a place that Wax says has lost its original charm.
"It's another place to have a beer downtown," Wax said. "There's nothing special about it anymore."
Remembering the good times he used to have at the old Hub, Wax reminisces about witnessing live poetry readings, Johnny Cash covers and the "rock star of the month."
"The old Hub, they have a real live music scene," Wax said.
The loss of the old Hub was one of several factors that led Wax to host the Koselig event in an effort to reinvigorate the live local music scene.
"It's a lot easier to just go out with your buddies to the bar it's the same five people cause you texted them, it is what it is."
Matt Eidson is the News Editor for The Dakota Student. He can be reached at [email protected]