Faculty, staff and students gather at the Wellness Center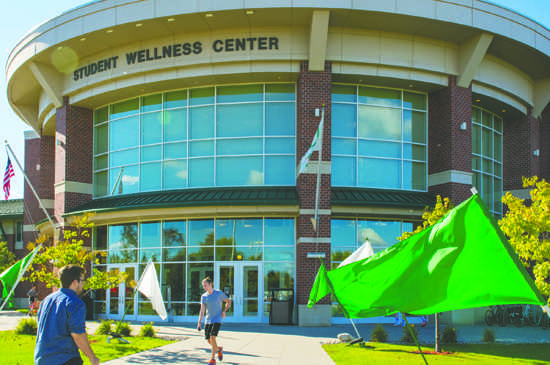 UND Wellness Center held its tenth year anniversary on Sept. 26, 2016. The anniversary was held at the center on campus with alumni that helped construct the building and those that are still employees of the university.
Laurie Betting, vice president of student affairs, stated in her speech, "this is an opportunity to reflect." Before the Wellness Center, UND was lacking in physical activity besides for one area in the Hyslop Center.
During the ceremony, Betting recalled the ceremony as going down "memory lane" for the last 16 years. "We have a crazy committed staff." With over 1,000 students that visit the Wellness Center every day, "students, you have an extraordinary place to be," Amanda Bento, a former student, stated.
While also celebrating the ten-year anniversary of the Wellness Center, "we are celebrating sixteen years of the seven parts of wellness," Brandon Beyer, student government president stated. "It continues to surprise me by innovation."
The Wellness Center is one of the first universities to have a twenty-three category criteria list. UND has completed eighteen of the twenty-three and is finishing up the last five components currently.
"Our Wellness Center is purposely designed for the seven spheres of wellness." Jennifer Puhl-Winkler, director of the Wellness Center, stated. "We still have work to do. We need to embrace differences. Wellness is not only about being active."
"We wanted this building to be like it is a part of campus.  We wanted brick and limestone. We wanted it to be like the Engelstad Arena. We wanted them to be related," Original architect, Fawn Behrens-Smith stated. "The design is still being used. It just isn't brick wall."
Following the ceremony, a ribbon cutting took place by the newly built outdoor courts. Those cutting the ribbon consisted of those that work or have worked at the Wellness Center. A cupcake social followed both prior events.
The tenth anniversary brought some events to the Wellness Center. On Sept. 26, 2016, the Center gave free classes to those interested and will have discounts on other classes throughout the week.
Following this week's discounted events, the Wellness Center has other events planned. Through the promotion on social media, the Center is promoting events. One event that the Center is continuing is the outdoor nation. UND is one of eighty-seven universities that is competing in an outdoor race to promote physical health.
Green Gallop will be happening on Oct. 14, 2016 at 7:30 p.m. This year the annual race will be a 5K race and will give participants an hour and a half. Streets will not be blocked off, so runners will be available to run on the sidewalks. All funds raised will be used for students. Students will have the opportunity to attend national conventions and workshops from the donations.
"We are here to promote a healthy lifestyle. We have a vision. We can take on a single voice." Puhl-Winkler stated. "We are going to continue to advance so people can make healthy choices."
Haley Olson is a staff writer for The Dakota Student. She can be reached at [email protected]