Refusing labels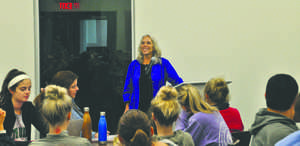 Guest speaker host "Beyond Binaries" at University of North Dakota
Robyn Ochs spoke to students on Oct. 12, 2016 at the Wilkerson Commons about the LGBT community. Ochs is a speaker, teacher, writer and activist regarding sexuality, gender identity and human rights.
Oct. 11 was National Coming Out Day. This was celebrated at UND with a movie in celebration of coming out and this presentation to follow. This is the fifth time Ochs has presented at UND.
"Labels hide the complexity of human beings," Ochs said. "People read us. They make assumptions and classify me without knowing me. They draw conclusions about us when identity is never exact." 
Ochs presented graphs and data of statistics and ways identity, gender and sexuality presents itself. Along with this, the group was asked to take an anonymous and confidential surveys that was later used for a hands-on display of the different types of gender, sexuality, identity and how people rate themselves.
After discussing binary graphs and different studies of sexuality, Ochs had every individual who participated in the survey take part in a random experiment. In this experiment, every individual was handed someone else's survey.
Questions along the lines of, "what words do you currently use — privately or publicly — to describe your sexual orientation?" to asking on a scale of one to seven, how monogamous you were (or how non-monogamous you were).
After receiving another person's survey, we were told to stand on a spectrum scale. During this process, we were told to stand by the number in which the other individual labeled themselves as. This process went on for about 21 questions.
"You get to see what it is like to hold someone else's identity in your hands," Ochs said. "We develop as we grow through life."
Along with this activity, Ochs presented research studies from Alfred Kinsey, Fritz Klein and Michael Storm. All of these graphs support Ochs' presentation on the many different identities and intersectionality that she brought up in her speech.
"All of your identities are combined at once, all the time," Ochs said. "Your identities affect each other. They are all different characteristics and they all change the world." 
Ochs ended the presentation with handing over the microphone to the audience — those who wanted to participate — so they could give their feedback of the presentation and the activity everyone participated in. The microphone was passed around the room and people made their statements.
"If there is one take-away from this presentation, I want you to know that it's complicated and I hope that you learned something different, that you have something that you didn't before," Ochs said. "We should move society forward and increase the awareness and conversations that we carry throughout campuses; a broader audience and more programs."
Along with the movie that was premiered on Oct. 11, 2016, the Ten Percent Society (TPS) will be hosting an event on Nov. 21, 2016 for Transgender day of remembrance and also hosting "Halloween Hijinx" which is a drag show and costume contest. This event will take place on Oct. 29, 2016 and open to those 18 and up at the VFW in East Grand Forks.
Haley Olson is a staff writer for The Dakota Student. She can be reached at [email protected]