Students and survivors "Take Back the Night"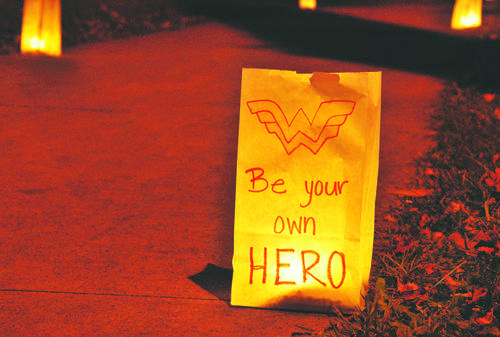 Survivors recalled their stories of domestic violence and sexual assault at the "Take Back the Night" rally on Oct. 6, 2016 at the Memorial Union Ballroom. The rally started at 7 p.m. and ended at 8:30 p.m. with the march down University Ave and a social gathering afterwards.
October is national domestic violence awareness month, and UND held its 21st  annual Clothesline project with "Take Back the Night" rally in pursuit.
The rally was to add personal voices from around the community and add voices to the shirts that were hung throughout the week at the Clothesline Project.
"It is vital and important that students and individual voices are heard," Kay Mendick, director of the Women's Center said at the rally. "We need to hear the voices of the survivors."
With nine speakers, the Dru Sjodin scholarship award winner, and an advocate for sexual assault, the rally was filled with personal stories and slam poetry on how they were influenced by domestic violence and sexual assault.
"It gives people a reason to listen." Dru Sjoden scholarship winner, Breanna Egeland stated in her speech. "There is not just one victim and all hardships have a right to grieve."
With over 450 shirts hung up around the audience and speakers, the survivors shared their stories with tears rolling down their faces. Emotions were high and the room was tense as the survivors shared their stories.
"People say you heal in layers but I am not an onion." Emma, a survivor who spoke at the event, stated. "I am worthy of pride."
Stories about rape, sexual assault and domestic violence filled the ballroom.
Community Violence Intervention Center (CVIC) advocate, Mackenzie, also spoke.
"The CVIC has 24-hour long helplines. We are here to provide options."
With personal stories being spoken, slam poetry was also presented by two survivors and one survivor, Leah, stated that she found therapy in sharing her story, others found hope and others reflected on their experiences.
"He could not and would not take my voice," Jenny Bishop, a survivor stated. "There is a beacon of hope and there are still safe places. You just need to stay strong and keep rising above."
The Women's Center and the CVIC both have options if survivors and victims have the need to talk. There are support groups and hotlines that you can be a part, too.
"If I don't come forward now and try to put a stop to this man, and all people like him, when will it stop if I stay silent?" Selena, a survivor said. "I can fight. For this to be talked about. For it to be less of a taboo topic."
"This isn't the rape you heard about in movies." Cheyenne, survivor and speaker, said. "I am part of a statistic now. I am 20 years old and our voices must be heard."
Every 10-12 seconds, a woman is being battered; and every minute, more than one account of rape is being reported.
Finishing off the rally, Mendick said "You can recognize survivors of abuse by their courage. When silence is so very inviting, they step forward and share their truth so others know they aren't alone."
If you are a victim of domestic violence or sexual assault, you can visit the Women's Center on campus.
Contact Information
For more information, contact Kay Mendick at [email protected] or the phone for the center at 777-4300.CVIC is also available and have hotlines open 24-7; they can be reached at 701-746-8900. Everything remains anonymous.
Haley Olson is a staff writer for The Dakota Student. She can be reached at [email protected]