Blues, BBQ and beer: Down on the river in Grand Forks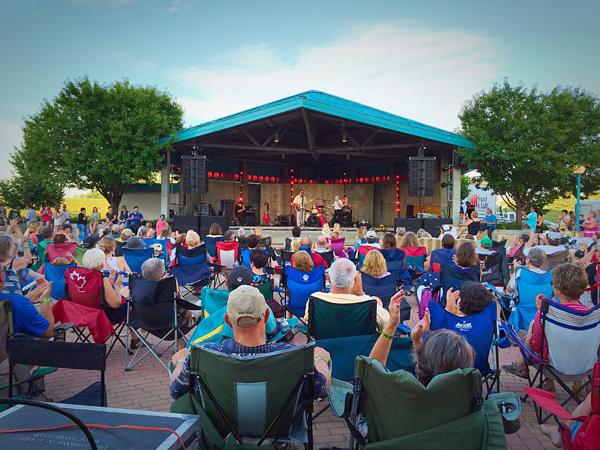 On a beautiful evening in downtown Grand Forks' Town Square, Blues on the Red filled the air with sweet sounding soul for the last time this year. In its 10th year, Blues on the Red is a free live music event that runs from 5p.m.-10p.m. and falls on the last Saturday of each month in June, July and August.
The event is always heralded as the last hurrah of summer, with teenagers, college kids, and adults alike joining together for an evening of relaxation and celebration before gearing up for harvest, school, or the end of the year sales push. As usual Blues on the Red didn't disappoint its eager fans with not only its great music but lively atmosphere.
Blues on the Red is organized by the Grand Forks Downtown Development Association and sponsored by various local businesses including Happy Harry's Bottle Shop, North Dakota Eye Clinic, McKinnon Company, Visit Grand Forks, Gate City Bank and Subway.
This year, it was catered by the Wild Hog Smokehouse Bar and Grill and also featured a beer garden.
The show features local, regional and national blues artists. This event was opened by Left Wing Bourbon and headlined by Studebaker Jon & The Hawks.
Left Wing Bourbon originates from Durand, WI and specializes in blues, funk and feel-good music.
Studebaker grew up in Chicago and was heavily influenced by the blues music he heard on Maxwell Street, the blues capital of Chicago. He had just released his 18th album of all-original material, titled Eternity's Descent, and played many of the songs featured on this album during the concert. His music has also been featured in numerous movies, television shows, and commercials. The most recent feature being in an episode of Dog the Bounty Hunter and Banshee, as well as the motion picture Ride Along Studebaker. He recorded his first record, Straight No Chaser, in 1978. Studebaker has toured around the U.S. and Canada as well as some places around the world, including Poland and around the U.K.
As usual, Blues on the Red was the must see event of the summer that everyone expected with Studebaker receiving a particularly large reception and applause, the perfect final performer for an excellent series.
If you are planning on attending the next Blues on the Red, make sure to get there early to find a seat or bring your own lawn chair. If you decide to attend a Blues on the R
ed in the future remember to arrive early so you don't miss any of the action and can get a seat in the crowds. While this was the final Blues on the Red concert for the year, they will pick up again next summer starting in June.
Journey Gontjes is a staff writer for The Dakota Student. she can be reached at [email protected]