Student Government candidates attend forum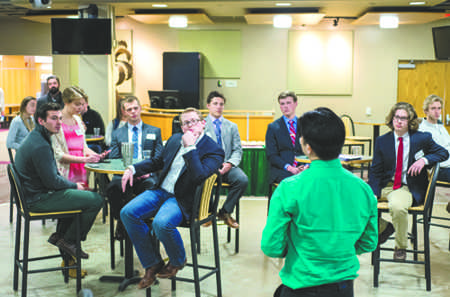 Prospective candidates made their pitch for UND Student government positions last Wednesday at the Loading Dock. Photo by Nick Nelson/The Dakota Student. 
The Student Senate held an elections forum for individuals who are running for Student Government next year and many are running unopposed.
Current treasurer Brandon Beyer is running for student body president next year, with Blake Andert running for vice president.
There are four years of experience between the two of them. Beyer has experience with different organizations and getting involved at UND.
When ask what he would change as the new student body president, Beyer had many ideas.
"The Memorial Union will be going through the Master Planning Process next year, and I will help make sure that is geared towards students and make sure they have a voice." Beyer said.
Andert is working on refining the professor evaluation project into a sort of internal Rate My Professor program through Campus Connection or Blackboard, so students can see opinions about professors before they even enroll.
They're also pushing for community collaboration through the vibrancy initiative. The idea is to help push more culture and art into the downtown Grand Forks business district.
There is much more information on the Student Government Facebook page.
Student senators who are on the ballot include:
College of Arts and Sciences: John T. Opland
College of Business and Public Administration: Nicolas L. Hason
Honors Program: Eric Gefroh
John D. Odegard School of Aerospace Sciences: Matthew Adamson and Tomohiro Tanaka
School of Law: Daniel Frank
On-Campus Apartments: Michael Kelsch and Conrad Kranz
Off-Campus senators included John Bjorklund, Taylor Bovee, Hannah Carlson, Layton Erikson, Ethan Glidden, Tucker D. Haffner, David Lapthorn, Ashley VanderBush, Jake Wahlin and Nicholas Young.
No candidates have submitted materials stating their intentions to run for the following Student Senate positions:
College of Education and Human Development (1 position), College of Engineering and Mines (1 position), School of Graduate Studies (1 position), School of Medicine and Health Sciences (1 position), College of Nursing (1 position), Undecided (1 position), Residence Halls (2 positions), University Senators (10 positions).
The write-ins included Chris Passion, Kaleb Deshak and Eric Suvanasak and will not be on the ballot.
Votes for Student Government will be on April 13th.
Meeting during the senate meeting on Wednesday, guest speakers were Dean of Students Cara Halgren and Director of Judicial Affairs and Crisis Programs Alex Pokornowski.
Dr. Halgren spoke about extending Mccannel Hall and the associated fee that every student must pay each semester.
Halgren spoke about upcoming plans for the renewal of that fee. She proposed a one-year extension of the current fee to help cover costs to upgrade Mccannel Hall, make improvements for students and the services we provided to students
There has been talk about possibly upgrading the Memorial Union, although no concrete plans have been set. The architects have recently looked at both McCannel Hall and the  Memorial Union and will soon come forward with info regarding what changes can be made.
"By renewing the McCannel Hall bond fee, it gives us the opportunity and flexibility to move on with some of the changes we are thinking about, possibly addressing maintenance issues. Our goal is to create greater opportunities for students in the future," Halgren said.
They are asking for a one-year extension because right now there are no concrete plans in place. Extending another year gives the university time to think about what they want to do. Final decisions on renovations will depend on what resources are available at the time.
UND Student Body President Matt Kopp said they were originally asking to extend for three years but ultimately decided on one.
"Then when we have a plan in place for the Union and McCannel, we can put that to the student body," Kopp said.
Pokornowski spoke about the proposed changes they are making to the UND Code of Student Life.
"The Code of Student Life is a document that sets up expectations for student behavior and conduct of the student body, and sets up policies for UND to respond to any concerns," Pokornowski said.
The document is being reviewed to match changes in federal regulations and state laws.
Changes were made in four main areas including in the suspension process and sexual misconduct, as well as reducing the duplication of the document and increasing clarity via adding flowcharts. These changes reduced the document from 114 pages to 78 pages.
The UND Code of Student Life can easily be found online. The proposed changes will be voted on in the coming month. If all goes as planned, it should be in place next fall.
Bill
A new bill was introduced to Student Senate titled SB1516-15: Feed Our Hungry Students. If passed, the bill will allow for funds to be distributed to students in need in the form of a grocery gift card for a local grocery store.
The author, Shawn McHale, said that this is a step in the right direction.
"There have been various studies done over the years about how college students are notoriously poor, some struggling on a daily basis to find out where their next meal is," McHale said.
There was talk about possible putting a food shelf on campus in the future for students in need to utilize. The bill was tabled for further discussion.
Journey Gontjes  is a writer for The Dakota Student. She can be reached at [email protected]