Doctors, nurses and survivors discuss Human Papilloma Virus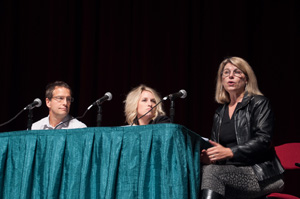 Rosy Dub, a nurse at UND Student Health Services, says discussions with patients about getting vaccinated has become a regular occurrence.
"As healthcare providers it is our responsibility to educate people on the vaccination," Dub said. "Also, outside the medical office it is important to do whatever we can do to promote the awareness."
Oct. 18 was a very powerful night at UND. Doctors, nurses and survivors all joined together to talk about an important subject: Human Papilloma Virus (HPV). HPV is the most common sexually transmitted infection in the world. It is so common that an estimated 75 percent -to 80 percent of both males and females will have HPV at some point in their lifetime.
For the majority, the virus will clear up on its own within two years, but for some, it can be persistent and can cause several types of cancer. One of the most common types of cancer caused by HPV is cervical cancer, with a staggering 90 percent of cervical cancers linked to seven different types of the virus. The other two types of high concern are types six and 11 which cause about 90 percent of genital warts cases in both males and females.
Approximately 250,000 women die around the world every year from cervical cancer caused by HPV. Fortunately, the HPV vaccine actually prevents cervical cancer.
Fortunately, in 2006 an HPV preventative vaccine was created. It is extremely effective, with studies showing that it can prevent up to 99 percent of the cancers that stem from HPV (including cervical, anal and oral cancers,) and also prevents genital warts from HPV. It is targeted to males and females within the 9-26 age group because they are the most at risk for getting the virus.
Dub says there are no negatives except a few possible minor side effects and a sore arm.
Dub feels it is important to speak up about issues like cervical cancer because there is actually a preventative measure in place, unlike essentially all other cancers.
"It can actually save lives and it's a routine immunization. There isn't a financial barrier and its very accessible." Dub said.
"Someone You Love: The HPV Epidemic," a powerful film documenting the stunning stories of five different women who have been affected with cervical cancer was shown at the event.
Dub has seen the movie and agrees it is very powerful to say the least.
"I strongly encourage and support getting the HPV vaccination and this movie is another motivator to make sure that we continue to push the immunization for HPV," Dub said about the movie.
It is important if you are female to get pap smears on a regular basis (experts now recommend every three to five years) and for both males and females to get tested for HPV on a regular basis, and of course, get vaccinated against HPV.
The film proves that this is a very dangerous disease that can affect a person even when least expected. All five women in the video had one thing in common: they did not see it coming.
One of the women in the video, singer/songwriter turned motivational speaker Christine Baze spoke at the event following the showing of the movie. Baze told her story and how surviving cervical cancer has changed her life and motivated her to become an advocate for the disease.
She has been an advocate for 16 years, traveling around the world and spreading the word about cervical cancer, pap smears and the HPV vaccine. During her speeches, she performs songs that she wrote about her experience, so she calls the tours 'Pop Smears' because she sings and talks about the importance of pap smears and the HPV vaccine. To lighten the subject, she also has her slogan on lots of things dubbed "Save the Hooch." Because of her experience and willingness to advocate, she started the Yellow Umbrella Organization, which is a source of information and advocacy.
Two of the women in the video had their lives taken away by a relentless cervical cancer. One of them, Kelly, was very close to Baze, they became close friends while advocating.
Kelly's cancer was discovered when she was 31, the documentary showed it from beginning to end.
At first she hit the cancer hard with everything available, and was eventually cleared for remission. But then the cancer came back more aggressively.
She beat it again, essentially by having her uterus, fallopian tubes, ovaries and her bladder removed. Even after that she still kept a positive attitude. Things were looking up again, but then the cancer suddenly spread to her spinal cord, paralyzing her and affecting her speech. There was nothing the doctors could do.
The last scene of Kelly was her attempting to speaking about how she knows cancer is going to win this time, and how she has tried to stay positive but now she knows she will lose the long fight.
In her speech, Baze mentioned how powerful Kelly's fight was.
"You see how alive and vibrant and full of spirit she is in the beginning and then you to see that last scene," Christine said. "It breaks my heart."
It is the most powerful thing I have ever seen as well.
For more resources or information, please visit Christine's website www.theyellowumbrella.org and be sure to watch Someone You Love: The HPV Epidemic.
Journey Gontjes is a staff writer for The Dakota Student. She can be reached at [email protected]