Saleh Faruque publishes fourth book in series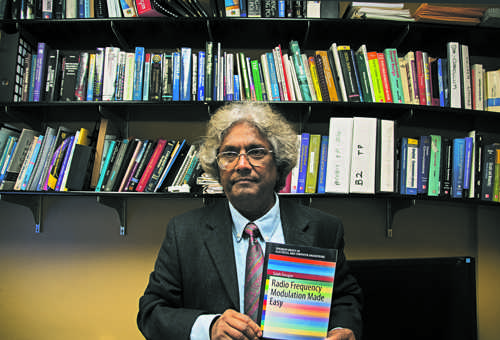 University of North Dakota associate professor of electrical engineering Saleh Faruque has published book number four in his "Radio Frequency Made Easy" series: "Radio Frequency Modulation Made Easy."
Dr. Faruque is no stranger to physics, wireless communications or radio frequency, as he holds a bachelor's degree in physics and masters of applied physics from Dhaka University in Bangladesh from 1969 and 1970.
Faruque also completed his master's and Ph.D. in electrical engineering from the University of Waterloo in Ontario, Canada. He has over 20 years of work experience in the telecom industry.
His series of "Made Easy" books are intended as supplements to recommended texts.
The entire "Made Easy" series is projected to contain six books total; the last two are currently in progress.
In addition to the book series, he has also published over 90 papers and holds 19 patents in the US and Canada.
His newest book is about radio frequency modulation intended for a broad audience, not just experts in the field.
The book is geared more toward a visual approach, not so much mathematical. It includes theory and practice examples that help the reader understand the key concepts, underlying principles and applications of wireless communications.
Not everyone has experience with the concept of radio frequency, one big reason being that it's invisible. Dr. Faruque puts it well when he explains how his new book will help people understand this difficult concept.
"I came to realize that it is partly science, partly engineering and mostly art," Faruque said. "I sought to develop this book by combining visuals with text to illustrate the concepts."
It's evident that Dr. Faruque is passionate about what he does and wants to spread his extensive knowledge far and wide, opposed to writing for experts in the field.
"I hope this book will be of help to students, professionals, instructors in telecommunications and others interested in learning about radio frequency modulation," Faruque said.
When asked why this technology will be of interest to a general audience, Dr. Faruque says it is simple: Cell phones.
It is ironic how much a topic such as radio frequency is so often overlooked by most, even though the majority of people are spending a large amount of time staring right at it most of their day.
"This technology forms an integral part of the cell phone, which is widely used today," Faruque said. "For this reason, I believe this topic will attract the general audience."
Faruque says the inspiration to write this book ultimately came from his teaching experience at UND.
"As I taught, I felt the need for an easy and comprehensive chapbook that would blend theory and practice, and bring students up to date in salient features, key concepts and appropriate applications of radio frequency modulation as it applies to wireless communication, particularly cell phones," Faruque said.
The "Made Easy" series is a essentially a collection of Faruque's lecture notes over his years of teaching wireless communications at UND.
Ultimately, Faruque says the fourth book in the series was written because of his students.
"The enthusiastic feedback I received from my students played a significant role in inspiring me to write this book," Faruque said.
Keep an eye out for the next two books that will be featured in his "Made Easy" series, which are currently in progress.
Journey Gontjes is a staff writer for The Dakota Student. She can be reached at [email protected]