On or off campus?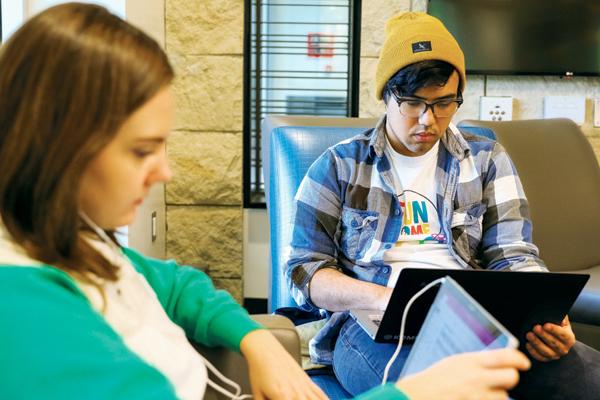 Considering the pros and cons of living on or off-campus
Being an off-campus student myself, I wanted to see how others felt about how UND was treating them.
Some of the major frustrations I heard (and experience) include driving and parking issues, missing out on social events, not having a close place to take naps inbetween classes and not making many friends or feeling included.
One big issue is the commute. Driving conditions and situations do not always make it easy to get to class on time. The train can stop cars for 15 minutes, which can make the difference between making that 8 a.m. or being too late to even bother. Not to mention in the wintertime, when road conditions may not warrant a speedy commute. Also, commuters must get up much earlier just to get ready, warm up your car and make it on time. Sometimes class is cancelled last minute, but the off-campus student won't see the email until they have already arrived at school.
Erika Gallaway has seen both sides of the living situation dilemma. Her freshman year she lived off campus, then the next two years she stayed on campus and eventually became an RA.
"I've seen the pros and cons of living on (campus). I understand the benefits of living on campus as a freshman so you can feel connected right away," Gallaway said. "As you grow older and outgrow the forced programming and small spaces of housing, it's best to live more independently off campus."
This brings us to a huge issue: parking. For an off-campus student to park in their designated Blue "S" lots for one semester, it will cost them a whopping $155 for one semester. That's $310 for a regular school year. Way too much money for a poor college student to pay in addition to tuition and various student fees.
Even though there are many different permits and lots available, they are all ridiculously expensive. Even the Wellness Center lots require a UND permit for students. There are parking meters available for anyone to use, however they are expensive too, at 25 cents for 10 minutes.
Sarah Glass, an off-campus student thinks UND needs more "S" lots.
"I have to leave at least 30 minutes before class to get a parking spot, and even then, I'm late sometimes because I drive around looking for parking for so long." Glass says.
Parking is even more dangerous when a student does not hold a permit, since they must resort to gambling with parking on the city streets around campus.
Chloe Hnatko, another off-campus student, says she has had it with UND's street parking situation.
"Most of the time, I can't find a spot because there are too many students who are trying to park on the street and there's not enough spots," said Hnatko. "I have to leave at least an hour early just to find parking on the street because I don't want to buy a permit for that much money."
Living off campus, one is physically separated from campus life, but can also be socially. Off campus, it can often be difficult to hear about many events circulating around campus. This same issue also can make it hard to make friends and meet new people, because they are not near one another.
Shelby Cadreau lived off campus her freshman year and says she missed a lot of events that were going on. Once her sophomore year rolled around she decided to live in the dorms.
"I attended way more events and felt more included," Cadreau said.
But despite the negatives, there are also positives to living off campus, the reasons many of us choose to do so.
Off-campus student Nicole Beito says she likes having options.
"I have the option to enjoy campus or take a break," Beito said.
Living off-campus is much more independent, meaning there are no specific rules or regulations such as the ones dorm-dwellers must abide by. There is a potential to save a ton of money while at the same time having a larger space, more peace and quiet, privacy and most importantly: a designated parking spot.
Journey Gontjes is a staff writer for the Dakota Student. She can be reached at [email protected]