From Dickinson to Texas back to Forks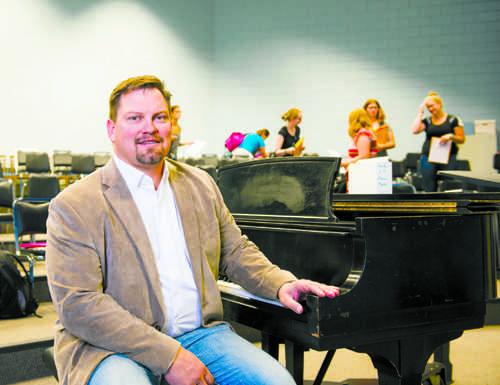 Dean Jilek comes from to take charge of UND Choir 
"Grand Forks is a great community. The University of North Dakota is part of a great community. I am excited to be here" New choir director and professor, Dean Jilek stated in an interview with the Dakota Student.
Dean Jilek is named the new choir director for the University of North Dakota. Jilek is replacing former director, Joshua Bronfman, who took a position at Sam Houston State University. Receiving his doctorate in Choral Conducting Performance from University of North Texas, Jilek has a wide range of musical talents, including trombone, piano, guitar and conducting. Jilek started playing Trombone in fifth grade.
Originally from Dickinson, North Dakota, Jilek is now a professor at UND teaching: voice class, vocal methods, the two musical groups, varsity bards and concert choir. He has twenty-one years of experience teaching. Jilek was also an athlete in his college career. Jilek played football for Dickinson State. "I wanted to show that you could be an athlete, that you could be a musician, and you could be successful doing both."
Jilek plans on recruiting the community so that everyone knows about the program. "We want everyone to know that we have a place for each and every single person here at the University of North Dakota." Jilek stated. "The department has already been impacted already by the budget cut, but not our attitude. We are going to push forward and still recruit. It's a great community."  UND cut the music therapy program this last spring.
Jilek plans to recruit as many students as possible. "You don't need to be a music major. It is open enrollment." With over 130 students, Jilek plans on the enrollment to increase.  Carrying on tradition, Jilek plans on having the varsity bard (thirty-two men) perform in Bismarck in November of 2016 for a festival and for the Sioux Awards on October 13, 2016. The Sioux awards is an award for the highest honors given by the UND Alumni Association and Foundation since 1962.
Hoping to do more traveling, Jilek wants to carry on tradition. "The men's bard traveled in the 50's and 60's throughout the state of North Dakota. Maybe later, we can have the bard travel again." Jilek Stated. "I'm not going to make any changes to the department yet. I feel like it is important to see what the music department offers to our students and facility."  
"The music department is still alive and well. We are still successful" Jilek stated.  "The UND facility here is wonderful. We are a team and working to make things successful." Jilek will be working hard to keep the enrollment up and increasing while at UND.  "We have a place for everyone, not just music majors." Jelik reinstated.
If anyone student is interested in joining the varsity bard or varsity choir, one can find more information on the UND website or contacting the music department at 701-777-2644, or through email: [email protected] .
Haley Olson is a staff writer for The Dakota Student. she can be reached at [email protected]