From classroom to career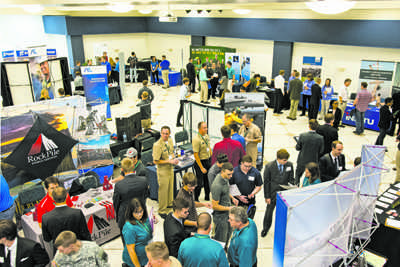 Job fairs are one of the many opportunities career available to students. Career services also assists with resume building and job placement. Photo courtesy of und.edu
Whether a student is just about to graduate or recently arrived at UND, Career Services has a variety of services to offer to students.
Ilene Odegard, Director of Career Services at UND, encouraged students of all ages to stop by the Career Service to learn more about the different ways the office can assist students who are trying to find their way into the workforce.
"Even as a freshman or sophomore, we've seen that the most successful students that we've worked with come early and they come often," Odegard said.
Even for those UND graduates who find themselves on the way out the door, Odegard said the assistance provided by Career Services is available to all UND alumni, regardless of where they live or work.
One of the fundamental ways Career Services helps students is with their resume and cover letters. Odegard said that both the resume and cover letter should be tailored to the individual position a student is seeking in order to increase the potential 
"I think it's important for students to put the hat on of the employer," Odegard said. "The resume is going to be your tool for getting the interview."
She recommended building your resume throughout your time as a student so that you have plenty of information to choose from when applying for specific jobs. Additionally, joining student clubs and volunteering can be good ways to build one's resume, in addition to working and attending school
A cover letter is often required for many job applications, and it can be an important part of complementing the information on one's resume.
"I always describe your resume as a picture of who you are ——- it's a photo really — but the cover letter is the story," Odegard said. "You want to be able to show for instance, your excellent writing abilities within the cover letter."
Odegard said both the resume and cover letter should be tailored to the individual position a student is seeking in order to increase the potential
Career Services, along with the Student Success and Counseling centers, uses the website Focus 2 as a tool to help students select a major. Career Services works with students one on one to navigate the results of the surveys on the website.
"It's interest surveys, ability surveys, all kinds of ways to measure what your strengths are," Odegard said. "And then it aligns itself with the degrees offered at UND."
Career Services also uses the website Career Connect to help match graduates with potential employers. There are over 14,000 employers in the Career Connect System.
"Many of our employers that are registered in Career Connect are UND alumni. It's a really great club to belong to," Odegard said, noting that companies  like Indeed, Simply Hired and LinkedIn can all be great resources for job hunting as well.
Odegard mentioned LinkedIn as a resource that is becoming increasingly relevant for networking. The website provides a way for professionals to connect and can be a valuable tool for students seeking to expand their network. Career Services provides free photos for students looking to have professional-style LinkedIn profile photos.
Career Services also hosts career fairs multiple times throughout the school year to provide a more traditional way for UND students to meet area employers, whether it be for a part-time position while they are in school, internship possibilities or full-time employment. 
College can be a time that students potentially run into trouble on their own social media, and Odegard said ensuring that students' social media presence is appropriate goes a long way to improving their job prospects.
"Anything that embarrassess your mother should not be on facebook," Odegard said with a laugh. "I spoke to a student athletic group, and I said anything that is going to embarrass your coach, do not put it out there."
There is plenty that goes into preparing for a career after graduation, and Career Services is available to assist students along the way. For more information about Career Services, visit their website at http://und.edu/student-life/careers/ or stop by their office in 280 McCannel Hall.
Sean Cleary is the former editor-in-chief of The Dakota Student. He can be reached at [email protected]