Changing jurisdiction
University PD discuss jurisdiction agreement with Grand Forks PD
Since July of last year, the University of North Dakota Police Department has not had legal jurisdiction off of campus.
This lack of jurisdiction comes from a North Dakota Supreme Court ruling, Kroschel v. Levi. In that particular case, NDSU police officers arrested a student for driving under the influence of alcohol, but the arrest took place off of campus. The case went to the state's Supreme Court, where it was decided that campus police department's could not enter into agreements with local authorities to expand their authority off of campus.
Before the Supreme Court ruled on the issue, campus police departments at UND, NDSU and NDSCS had agreements with their respective city police departments so they could have jurisdiction in the areas surrounding campus.
Now, campus police departments in North Dakota have jurisdiction only in areas in which they are required to report crimes to the federal government under the Clery Act; this includes campus property and adjacent roads, but not private property near campus.
Sgt. Danny Weigel, who serves as the Public Information Officer for the UND Police Department and represents Ward 1 on the Grand Forks City Council, said that the ruling has limited UND police's ability to act in emergency situations.
He used the example of Loaf and Jug, which is located on private property, but the three adjacent corners of the intersection are campus property. While UND police would likely be the closest officers in the event of a crime at the gas station, it would be out of their jurisdiction.
If the UND police were able to again enter into agreements with local authorities, they would be better able to respond to incidents and utilize available resources, according to Wiegel.
A return to a system which allows for agreements between campus police and local authorities would result in UND having similar policies as many other large universities across the country. According to a 2015 report from the Department of Justice, 86 percent of four year universities have a police force with authority in properties adjacent to campus.
Wiegel also noted that community-based initiatives efforts started by campus police are often adopted by larger city police departments in order to improve relationships within their communities.
"We do a lot of unique programs with the campus community," Weigel said. "In a climate where community policing is key, we get to know our campus community."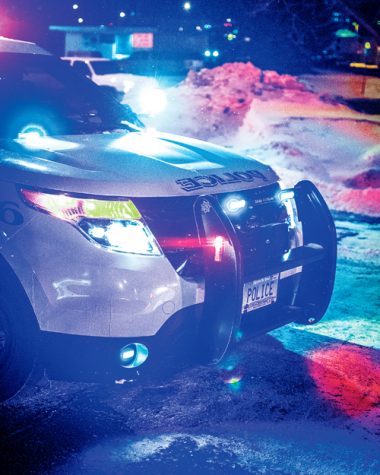 Legislature
When the North Dakota Legislature convenes in January, they will have a chance to change the state's laws regarding campus jurisdiction. Jake Blum, a UND senior who was recently elected to represent District 42, said that returning to the way police jurisdiction issues were handled before the ruling would be beneficial for public safety.
"In my eyes, it's a huge public safety issue," Blum said, noting that lack of jurisdiction could result in delayed response times to incidents just off of campus. "The fact that they wouldn't be able to respond to that, and we would have to wait possibly ten minutes when it could be a 45 second response, I think that's pretty troubling."
Blum said that working to improve the campus jurisdiction issue would be a priority for him when he goes to Bismarck for the legislative session.
"The State Legislature has to act to reinforce the fact that we do need university police departments," Blum said. "Right now, we basically have these departments with the same training as a city police department, and they aren't able to respond to the vast majority of things that would occur in this general area."
Photo by Nicholas Nelson
Sean Cleary is a copy editor for The Dakota Student. He can be reached at [email protected]