Kopp reflects on year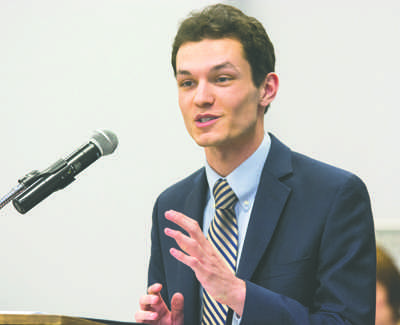 Kopp addresses UND Student Senate earlier this year. Photo by Nick Nelson/The Dakota Student.  
The end of the school year is approaching, and for Matt Kopp, that means graduation and the end of his time as UND student body president.
Kopp, who will be attending law school next year, expressed optimism about the future of school despite some of the budget difficulties the university is encountering.
"Once we get through the budget cuts and the difficulties what were going through right now, I think we are going to see a lot of growth, and we are going to see expansion of programs and services for students," Kopp said.
It's been a busy year at UND, as the university has dealt with selecting a new nickname and logo, selecting a new president and dealing with the recent budget cuts, among other things.
"It's been an incredible experience to be in the middle of all this because when we look back at the university a long time from now, the things that are happening right now are going to be the things that are making a huge impact on the way UND looks as an institution for years to come," Kopp said.
From the perspective of Student Government, Kopp pointed out several programs that they had help initiate. He highlighted the vibrancy initiative currently underway in the Grand Forks community and working to make student fees more efficient.
Student Government also worked to lower the amount of credits needed to graduate, assisted with the start of the planning process for the Memorial Union and began a program to inform students about the amount of student loans they are taking on during school and how to effectively deal with them.
"We can't always accomplish everything," Kopp said. "There are things that get in the way sometimes of what student governments wants to do or what students want to have done, but I do think we have moved the needle on a lot of issues."
Taylor Nelson, student body vice president, will also be graduating from UND this year, with the next leadership team of Brandon Beyer and Blake Andert taking over as student body presidnet and vice president. Kopp gave a bit of advice for them: engage more with students.
"I think this year that's one thing Taylor and I missed a little bit," Kopp said. "Really just getting out there and putting yourself in front of students and listening to what they have to say, and taking those ideas and using them to make a difference."
For Kopp, he said participating in the presidential search process was one of the highlights of his year.
"From a personal standpoint of being on the committee and working with that to find President (Mark) Kennedy, who I think is going to be a great leader for the next generation of UND students," he said.
Kopp said incoming UND president Kennedy should be sure to listen to the community before moving forward with his future plans for the university. Kennedy was selected by the SBHE on March 15 and is scheduled to begin his presidency of July 1.
Sean Cleary is the editor-in-chief for The Dakota Student. He can be reached at [email protected]