Schafer talks budget with Senate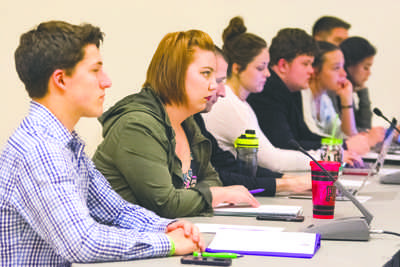 Advertisement
Hang on for a minute...we're trying to find some more stories you might like.
Student senators gathered April 20 in the Memorial Union hours after Schafer's budget forum. Photo by Nick Nelson/The Dakota Student. 
Interim UND President Ed Schafer appeared at a Student Senate meeting on April 20 to make some statements regarding the university and all the changes that have been happening.
Schafer addressed issues from the recent open forum held earlier that day to the new nickname.
"It went quite well," Schafer said. "Going through this before, we will be able to shape the university. We need to invest in the future."
As well as addressing the open forum, Schafer also made comments about the new nickname.
It "shows tradition, pride and character that you as students will carry forward,"  Schafer said. "We need something to help capture the pride and sense of the university."
SME Inc, the firm contracted to create the Fighting Hawks logo, is scheduled to release examples of potential logos May 15.
After Schafer addressed the Senate, it discussed four different bills during remainder of the meeting.
The first major bill that was raised for approval was 'Feed Our Hungry Students.' This bill allows $5,000 from Student Senate's general account. The $5,000 will then be divided into 500 gift cards from Hugo's, each totaling $25.00.
After discussing concerns on how the gift cards would be spent, such as using the gift cards at Hugo's Wine and Spirits, Senate approved the bill.
The next bill addressed 'Press Pause', an event that UND holds during finals week. In the discussion, senators asked to allocate $30,000 from the general account in order to hold this event, which includes de-stressing during finals week, offering free bowling and free movie tickets. The event last year "went without a hitch. Students could utilize their resources, and they seemed to enjoy it," senate member stated. This year's Press Pause event will take place May 6 through May 8, 2016. 
The third bill approved provided funding to ArtSee and Alley Alive events.
Corey Mock and Blue Weber the Grand Forks community in regard to the project. Mock and Weber asked $14,000 from Student Government.
Of the $14,000, $4,000 will be used to purchase a stage for performers. The rest will be used for food vouchers. 
All bands and food trucks at the events will be local, with different setups around downtown. There will be music, art, food and entertainment.
"There is no better audience than UND students," Mock said. 
The last resolution discussed McCannel Hall Bond Fee.
The resolution was brought into action in the 1960s and has been renewed annually. This bond fee will help renovate and fix spaces within McCannel Hall and the Memorial Union. This will stand at $1.25 for every credit under 12. The resolution is approved until June 30, 2017. 
The next upcoming Senate meeting will be next week, and the last one for the year is May 4. Next year's Student Senate will be addressed in this meeting as well.
Haley Olson is a writer for The Dakota Student. She can be reached a [email protected]