Exceptional U Award presented to student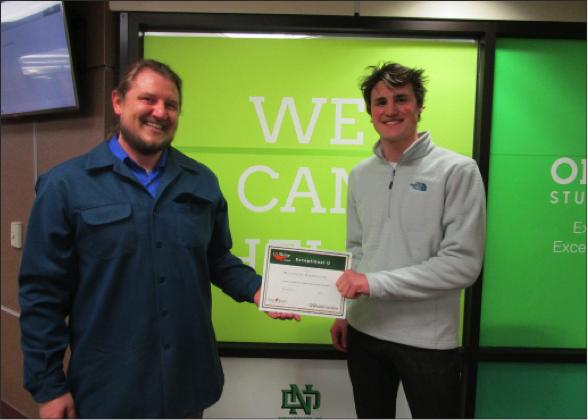 Anderson and presenter pose with award. Photo by Haley Olson/The Dakota Student. 
UND Student Senate awarded the Exceptional U Award to Matthew Anderson on March 22 at the Memorial Union.
Student Senate awards UND faculty, staff members, and students who go out of their way to demonstrate kindness to others, in honor of Random Acts of Kindness Week, Feb. 14-20. The Exceptional U award is given monthly to UND staff members.
This award is given out every March and nominations are taken up until the last week in February.
Matthew Anderson received the Exceptional U award for the student body in 2016. Anderson is a junior majoring in biology with a premedical concentration. Anderson received this award after returning a dropped debit card on campus. This was his first Exceptional U award.
One morning on his way to physics, Anderson looked at the ground and found a debit card in a puddle of water. Finding no one around, Anderson looked at the name and searched her on Facebook.
"I tried thinking of ways to contact her, but Facebook was the only thing that came to my head. Everyone has a Facebook account," Anderson said.
After making contact with her, he returned it to her office. "I was hoping to get it back in time to her so she wouldn't have to cancel the card," Anderson said.
Anderson was excited after receiving the award.
"It's an honor to receive this award. I wasn't expecting it." Anderson said. "It's something people should do in their normal days. People should automatically do it, it shouldn't be such an honor, just little acts of kindness."
Haley Olson is a writer for The Dakota Student. She can be reached at [email protected]