Beyer, Andert launch campaign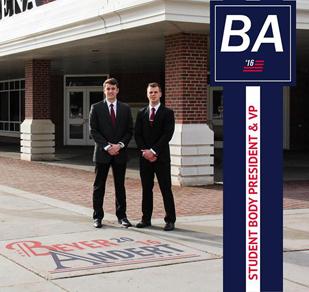 Brandon Beyer and Blake Andert announced their candidacy for student body president and vice president earlier this month. Photo courtesy of Brandon Beyer
Students at UND are involved in a variety of organizations during their time at the university and Brandon Beyer is certainly no exception.
He recently announced he is running for UND student body president, citing his involvement on campus as one of the reasons that prompted him to run.
Beyer, who is originally from Fargo, is studying investments and honors at UND and will be graduating in May 2017. He is currently the treasurer for student government, a member of the Sigma Chi fraternity and active in the Student Management Investment Fund.
"I've tried to branch out and get involved in things outside my comfort zone. As an investments major, you have a predefined skillset, and I wanted to expand that to different areas. That's why you get involved in student government and you run for positions like this," he said.
Beyer said it was this involvement in campus life that made him interested in running for student body president.
"Over the past two years, I've been involved in student government, and the more you are involved, the more you want to get involved," Beyer said. "Ever since I was a senator I felt that way and getting involved on exec has been fantastic and it gets you closer to all the action that's going on around campus."
Running with Beyer for Student Body Vice President is UND sophomore Blake Andert, a native of Eagan, Minn. Andert is studying supply chain management and political science at UND and is currently the chief of staff on the student government executive team.
Last year, Andert served as chairman of the Student Organization Funding Agency, which allocates a budget of close to $200,000 to various student organizations, and of the student government election committee.
In an interview with the Dakota Student, Beyer said that him and Andert would bring an array of experience to the position if elected.
"We have a combined four years of experience within student government," Beyer said. "We have a wide range of experience we bring to the table, and we've been involved in multiple branches of student government."
Andert echoed this sentiment, saying the experience he and Beyer have will allow them to work well with the administration.
Beyer said that with the new UND president coming in, UND has a chance to address and move on from some of the obstacles the universities has encountered in recent history.
"I think that's an opportunity to face those challenges, whether it be the budget, school spirit, or everything that comes with the logo and nickname," Beyer said. "I think we're at a really pivotal point in UND's history, and I think it provides us with not only challenges, but even more so, opportunities to face those challenges."
Former President Bob Kelley retired at the beginning of this semester, and former governor Ed Schafer has been serving as interim president since that time. By the time a new Student Body President takes office in the fall, the State Board of Higher Education will have selected a new president for the university.
Beyer stressed the importance of having a student body president who could work with the incoming president and represent the student body when the new president is transitioning to the university.
"They're leading 15,000 students and hundreds of staff, faculty," Beyer said. "If they have a student representative that is the voice of the entire student body, that's an incredibly large responsibility."
Andert said that he too is "excited for the opportunity" to work with a new president given the unique situation the university is in.
The North Dakota legislature will be convening in the spring of 2017 for legislative session, and Beyer said that if elected, he and Andert would focus on ensuring students are adequately represented in Bismarck. Both UND and the state's budget are facing difficulties with the recent downturn in oil prices resulting in lower than expected tax revenue.
"The primary goal of the student body president and vice president is to be the voice of the student body. It's an incredibly important job that I don't take lightly," Beyer said. "It's important that we focus on the bills and resolutions during the legislative session that affect UND students."
Beyer and Andert have released three planks of their platform: student experience, community collaboration and dollars making sense. They plan on elaborating on the details of these topics as their campaign continues.
Currently, there are no other declared candidates for UND Student Body President and Vice President. Potential candidates have until the end of today to pick up their election packets from the student government office, and the packets are due back to the office on March 23.
Elections will be held April 13, 2016. For more information, visitund.edu/student-government.
Editor's note: This year, the UND Student Government changed its election bylaws so that candidates running for office in student government are no longer required to submit information to the Dakota Student regarding their candidacy. However, the Dakota Student, as UND's student newspaper, is dedicated to informing the student body on the candidates seeking to represent them and will be contacting candidates who decide to run.
Sean Cleary is the editor-in-chief for The Dakota Student. He can be reached at [email protected]