Fourth candidate on campus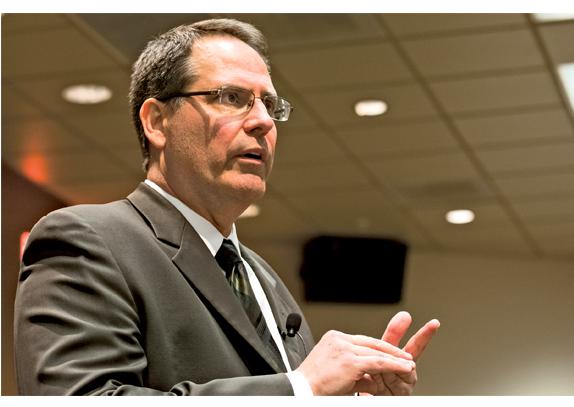 Touting a career filled with experience focused on research and economic development, Mark Rudin believes he is the right person for the job of UND president.
Rudin was the fourth of six presidential candidates to visit UND's campus, and he spent Monday and Tuesday of this week meeting with members of the UND community as part of the application process.
He is currently the vice president for research and economic development at Boise State University and has served in this position since 2007. At Boise State, his focus has been on working with researchers and assisting them with fulfilling their goals, as well as working with the local community and industry to drive economic development and leverage university assets.
"I've always been a firm believer that you do a lot of focused effort in your areas of strength," Rudin said. "You take a look at unmanned aircraft systems and petroleum engineering and other research strengths. You support everyone, but you hope to continue to grow and leverage the existing expertise at the university."
Part of making graduates more employable is working with industry to make sure students are learning skills that employers desire, according to Rudin. He mentioned his work with businesses in Idaho to not only address specific skills that graduates need, but also "21st century skills," such as the ability to work in a team and communicate well.
Rudin also mentioned the importance of making sure students supplement their time in the classroom with outside learning experiences, such as internships and co-ops.
"The data shows that if you have internships or experiential opportunities, employers are more likely to hire you," Rudin said. "So we're ramping up opportunities to increase internships and go to a co-op model, which is more like an extended internship."
Rudin said he was impressed with the way the university and Interim President  Ed Schafer have addressed the university's budget shortfall so far, and he stressed the need to have inclusive campus-wide discussions on how to address changes in the budget, both in the short and long term.
He also mentioned that the president of Boise State, Bob Kustra, hosts lunches with students so that he can get a better understanding of student concerns. If selected to be president, Rudin said he would like to conduct similar events so that he could stay aware of the what the average student thinks about what is going on around campus.
"We're not here unless we have the students, so I'm very interested in how we make it a positive experience for our students that leads to success," Rudin said.
Prior to working at Boise State, Rudin served in a variety of capacities at the University of Las Vegas, including his role as interim vice president for research services. Before his time at UNLV, he worked at the U.S. Department of Energy, the Idaho National Engineering Laboratory and Idaho State University.
Rudin said that it was the combination of the skill set he has, along with the current needs of UND, that drew him to applying to be president of UND.
"As I initially looked into the position, I understood that some of the skills I bring to it, in terms of an academic background, industry background and an outreach background, that breadth and depth of skills that I have truly would benefit an institution like this," Rudin said.
On campus today is Jay Noren, director and professor at the healthcare administration program at the University of Illinois-Chicago. Next week, Nagi Naganathan, dean of engineering at the University of Toledo, will be the sixth and final presidential candidate to visit UND's campus.
After all the visits are complete, the presidential search committee will recommend at least three candidates to the State Board of Higher Education, who will make the final decision on who the next president will be.