Olsen highlights budget experience, student outcomes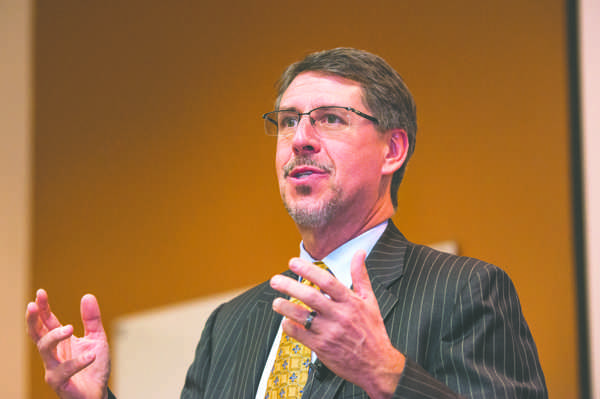 Morgan Olsen met with members of campus earlier this week as part of the presidential search process. Photo by Nick Nelson/The Dakota Student
The second of six presidential candidates has visited UND as part of the application process. Morgan Olsen returned to his alma mater earlier this week as a candidate in UND's presidential search process.
Olsen, who graduated with a bachelor's degree in political science and a master's degree in public administration from UND, has been the executive vice president, treasurer and chief financial officer at Arizona State University since 2008. Prior to his current job, he served in a similar roles at Purdue University, Southern Methodist University, Eastern Illinois University and Emporia University from 1985 to 2004.
He earned a Ph.D from the University of Kansas in higher education during his time at Emporia University. Prior to his career working in higher education, he served as the executive budget analyst for the North Dakota Office of Management and Budget.
Olsen, who has worked at ASU during a time when the university lost 40 percent of its state investment in four years, compared his experience with the budget at his current employer with the situation UND is currently facing.
"Ultimately what a budget is, is monetary embodiment of an organization's plans and goals, and ideally those ought to be really well aligned," Olsen said. "Everyone can be part of the discussion about that. You don't necessarily need to be a finance expert to have valuable things to contribute to that discussion."
When dealing with the budget, Olsen stressed that student outcomes need to remain a focus of the university, and that during his time at ASU, he tried to maintain student services despite having to balance the budget.
"We wanted to do everything possible to avoid having a negative impact on the student experience. Student success is critical to what we do. Everything we do should be focused on making sure we've maximized the opportunity for students to be successful," Olsen said. "And while yes, you do have to make the revenues and expenses match, we tried to focus the whole time where we wanted the university to be in the long term."
While Olsen said his experience in working with the budget was difficult at ASU, it also provided a way to reshape the university and strengthen in it some respects. Olsen spoke about how the focus on student outcomes is reflected in part by the graduation rate of the university.
"Our outcomes have to be successful a greater proportion of the time," Olsen said. "We have to have standards, there good reasons why people don't finish necessarily, but we have to take a greater responsibility in higher education than has traditionally been the case in terms of helping students succeed, evaluating why they didn't, and taking steps to change that."
With the role diversity plays on college campuses being widely discussed throughout the country, Olsen touched on some of the aspects of making UND an accommodating place for people from different backgrounds, noting that diversity isn't just solely about race or ethnicity.
"Educationally, we learn more from people who are not exactly like us and who don't have the same exact experience that we had, than we do from people who are just like us," Olsen said. "Having a diverse environment is helpful for education reasons as well."
Olsen stressed the need to
understand people have differing opinion on topics surrounding the university, but part of forming an inclusive community is respecting other's viewpoints.
When discussing what set him apart from the other candidates applying to be president of the university, Olsen stated that it's not just about a single person leading the university, himself included.
"The question really is about the university, and what is the best fit for UND to achieve its full potential," Olsen said. "If I happen to be that person, fantastic, but I think the most important thing is that the university has the leadership that is necessary to insure that university achieves its mission and meets the needs of its stakeholders."
Olsen was the second of six candidates to visit UND as part of the presidential search process. Steven Shirley, president of Minot State University, visited campus last week, and former Congressman Mark Kennedy, who is currently the Director of the Graduate School of Political Management at George Washington University, is on campus today.
Mark Rudin, Jay Noren and Nagi Naganathan will also be visiting campus as part of the search process through the end of February and beginning of March. For more information on the candidates, please visit http://und.edu/president-search/.