Philippines Culture Night held at union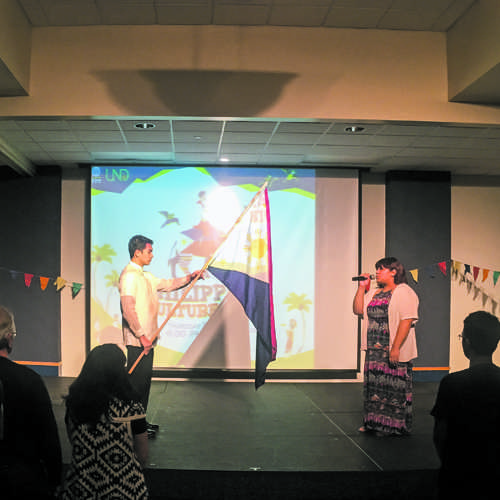 UND Freshman Jaena Fabia performed the Philippines national anthem to begin culture night. Photo by Sean Cleary/The Dakota Student
The newly formed Filipino American Student Association presented Philippines Culture night last week at the Memorial Union.
The Office of International Programs hosted the event in the Memorial Union ballroom. It was part of OIP's series of cultural events held throughout the school year.
UND freshman Jaena Fabia started the event by singing the Filipino National Anthem  "Lupang Hinirang."
Shae Bonifacio, president of the Filipino American Student Association, gave a brief introduction about the country. Bonifacio is currently a junior at UND studying graphic design and went to school in the Philippines prior to coming to North Dakota.
The Philippines is an island nation located in the Pacific Ocean, directly east of Vietnam and north of Indonesia. It consists of more than 7,000 islands and has a population of close to 103 million, making it the 12th populous country in the world.
The majority of the population lives on eleven on the islands, with 75 percent of the population living on the Northern island of Luzon, which also hosts the Manilla, the capital of the Philippines. The Manilla metro area has a population of over 10 million people.
Tagalog and English are the two official languages of the country, but there are many different regional dialects throughout the various islands. According to Bonifacio, most Filipinos speak Tagalog to each other, and children learn english in school. Sometimes younger people will combine the two languages and shift between the two while in conversation; this is known as Taglish.
The Philippines is the 3rd most populated English speaking country in the world, behind the United States and India.
Some of the most well-known Filipinos include 2015 Miss Universe Pia Alonzo Wurtzbach, boxer Manny Pacquiao and actress Vanessa Hudgens. Bruno Mars was born in Hawaii but also is part Filipino.
The Philippines became an independent country after World War II following an occupation by Japanese forces. Incidentally, many American jeeps that were left over from the fighting on the islands were converted into vibrantly painted "Jeepneys' that serve as the largest source of public transportation on the island.
The event featured two separate dances, a traditional dance and a hip-hop dance. Fabia spoke of the Filipino people's love of all kinds of dance and music, with hip-hop being one of the most popular genres of music among young Filipino people,
Eller Bonifacio, who is Shae's brother, as well as a UND Alumni and adviser to the Filipino American Student Association, spoke about the climate and geography of the Philippines.
"Have you ever been to Mexico? It's like Mexico, but with 70 percent humidity," Bonifacio said, noting that coming to Grand Forks for the first time in January was a complete shock compared to the tropical weather he was used to.
Sean Cleary is the Editor-in-Cheif for The Dakota Student. He can be reached at [email protected]