John D. Odegard School of Aerospace seeks new dean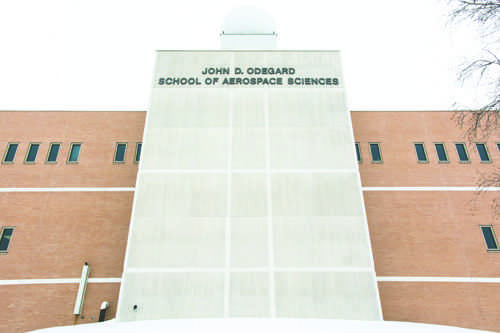 The university has been in the process of finding a new dean for the John D. Odegard School of Aerospace Sciences since current Dean Bruce Smith announced his retirement last year. Photo by Nick Nelson/ The Dakota Student
While UND is looking for a new president of the university, there's another high-profile position for which the university is currently hiring: dean of the John D. Odegard School of Aerospace Sciences.
The current dean of the school, Bruce Smith, announced in February that he would retire June 30, 2016. He is currently serving as dean until a replacement is found and has offered to stay past June in the event that the university hasn't found a replacement by that time.
"In the over 16 years that Dean Smith has been here at UND, he has taken the great legacy of the Odegard School to the next level and has built a world-class facility for aerospace research, education and training," UND Provost and Vice President Thomas DiLorenzo said in a statement. "We are very proud of all the Odegard School has accomplished under Dean Smith's leadership."
Smith was named dean of the John D. Odegard School of Aerospace Sciences at UND in January of 2000. He graduated from UND in 1970 with degrees in education and math before earning a master's degree in educational technology from Arizona State University in 1975 and a  Ph.D. in instructional design and development from Florida State University in 1984.
In addition to his studies at UND, he was an All-American football player, playing both center and linebacker and is a member of UND's Athletic Hall of Fame.
After he graduated from UND, he served eight years as a captain in the Air Force, working as a flight instructor around the country, including at the Air Force Academy in Colorado Springs, Colo. and USAF Undergraduate Pilot Training at Williams Air Force Base, Ariz.
"
We feel that people from industry will be candidates, along with those with a military background as well as people from academia."
— Sean Cleary
Following his military service, he spent several years working at aviation-related companies, including Hughes/Raytheon Training Inc., CAE/Link Flight Simulation and Delta Airlines.
A search committee to find his replacement was formed after he announced his retirement.
"We feel that people from industry will be candidates, along with those with a military background as well as people from academia," said Dr. Joshua Wynne, Dean of the UND School of Medicine and Health Sciences and chair of the search committee.
Among the requirements the university has listed for the position are a terminal degree in a relevant discipline and a minimum of 20 years in related aerospace, industry or university experience.
The university is currently reviewing applications as they are submitted, and applications that are submitted before March 4 will be given priority.
Smith's tenure has been a period of great growth and expansion at the school. It is currently one of the largest and most prestigious aerospace schools in the nation, with over 2,000 students enrolled in the school during the 2015-16 school year.
The school offers multiple aviation-related degrees, including airport management, aviation management, air traffic control, aviation technology management, commercial aviation (fixed wing or helicopter), flight education and UAS operations. Students can also earn a Master of Science in aviation and a Ph.D. in aerospace sciences. Students can add a variety of different specialties and minors to their primary field of study.
In addition to aviation, students can pursue both undergraduate and graduate degrees in atmospheric sciences, computer science, earth systems science and policy and space studies at school. There are a total of five academic departments at the school, offering 17 different degree programs, including five masters degrees and four doctoral degrees.
The school has come a long way since it was first founded as the Department of Aviation in 1968 within the College of Business. It initially had only 12 students and two airplanes and didn't become its own school within the university until 1983.
The founder of the program and now namesake of the school, John D. Odegard, was a 1967 graduate of UND, and was awarded the North Dakota's Roughrider Award last year in recognition of his contributions to UND and aviation.
Throughout its history, the school has been on the forefront of aviation education in the country. It started the  nation's first aviation degree program combined with a undergraduate business degree, the first hands-on ATC tower training for college students and the first bachelor's degree in unmanned aerial systems operations, which began in 2009.
As Smith prepares to retire from leading the school for over 15 years, UND will seek to find someone who can build on the progress made throughout the history of the school.
 Sean Cleary is the editor-in-chief of The Dakota Student. He can be reached at [email protected]