Presidential applicants narrowed to fifteen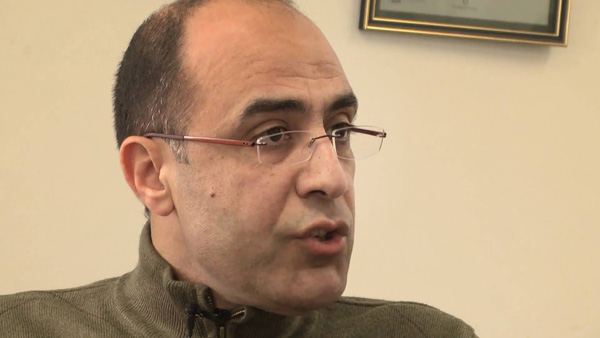 Hesham El-Rewini is the UND dean of the College of Engineering & Mines and co-chair of the presidential search committee. Photo courtesy of Youtube.com
Members of UND's presidential search committee met Wednesday morning to determine which applicants would be interviewed to potentially be the next president of the university.
Hesham El-Rewini, UND dean of the College of Engineering & Mines and co-chair of the committee, noted at the beginning of the meeting that four applications have been submitted after the deadline, and the committee voted affirmatively to allow these applications to be considered with the rest of the applications.
These late applications brought the total number of applicants to 41.
Grant Shaft, a former State Board of Higher Education Member humorously noted that Abe Lincoln and George Washington had submitted their applications to be president of UND.
These fictional applications were used by the committee to practice the committee discussion and vote process. A candidate required nine "moves" from the 14 person committee in order to advance to an interview.
"The idea is that at the end of the day, every candidate that comes to Minneapolis will have nine moves," Shaft said.
El-Rewini elaborated on the number of applicants that would be ideal to invite to Minneapolis and then the number that will ultimately be presented to the State Board of Higher Education.
"There is no magic number, but there are reasonable numbers." El -Rewini said. "We must submit 3 names to the board," continuing that more candidates was always an option.
Shaft noted that 15 would be the upward limit, but twelve would be much more manageable amount for the off-campus interviews in Minneapolis.
After the candidates are agreed to at wednesday's meeting, the consulting firm AGB search will begin contacting their references and researching further into a candidate's past.
Prior to the meeting, each committee member submitted a short list of their preferred candidates. The committee was reviewing any candidate that made any member's short list; three candidates did not make any of these lists and thus were not being reviewed. In addition, the committee reviewed the three candidates who submitted late applications to decide if they merited further consideration.
After the first candidate was not advanced in a relatively short amount of time, a member of the committee requested that they slow down to ensure proper review of each candidate.
" There's 40 some candidates, this much paper to read through" Nick Hacker, State Board of Higher Education member, said, gesturing with his hands to show the amount of paperwork that accompanied each applicant "I would to, if we could, just take our time"
Shari Nelson, UND associate director of Learning Services & Student Success Center, shared some of her general concerns about reviewing the candidates, including the distinction between what a candidate said they have accomplished in their letter of intent compared to what was on their resume.
As committee members went through initial candidates, they agreed on some characteristics they saw as ideal in their applications.
"What impressed me about some of them, is that they actually did research on the University," Jim Poolman, president of Jim Poolman Consulting, said. This sentiment was echoed by the rest of the committee. It was noted that there are many candidates who send applications to many job searches throughout the country in a blanket approach.
This was a recurring concern throughout the committee's meeting as they sifted through which candidates expressed a genuine desire to be the president of UND, as opposed to simply sending out large amount of applications to universities.
Concerns about focuses on research and fundraising were also raised by members of the committee when considering applicants.
After the first several applicants were reviewed, Shaft said that the relative lack of robust discussion was normal at this point in the process. Some candidates warranted more discussion than others, and that more in-depth debate would likely happen as the process continued.
Rodney Hanley, who was the former Chair of the Department of Earth System Science and Policy at UND in the mid-2000's and currently a Provost at Fisk University, was selected by the committee to advance for an interview.
Samantha Perrin, a UND graduate student at UND, noted that Hanley's experience at Fisk, which is a Historically Black College, would be beneficial when the university is discussing issues related to diversity at UND.
When the issue of salary came up for discussion, Shaft said that after candidates are selected for future interview, AGB Search, the consulting firm hired to assist with the hiring process, would have a frank discussion with the candidate about the expected salary for University President.
By the end of the meeting, a total of fifteen candidates were chosen to be interviewed in Minneapolis at the beginning of February:
    Dr. Mark Rudin, vice president for research and economic development at Boise State University, Idaho
     Dr. Robert C. Beatty, dean at College of Business at Florida Gulf Coast University, Florida
         Dr. Rodney S. Hanley, provost and vice president for academic affairs at Fisk University, Tennessee
         Dr. Kody Varahramyan, senior aide to the chancellor; former vice chancellor for research (2008-15) at Indiana University – Purdue University, Indianapolis (IUPUI), Indiana
         Dr. Robert A. Kennedy, executive search consultant at Academic Keys, Minnesota and former President (2011-2012) for Connecticut Board of Regents for Higher Education
         Dr. Ronald L. Elsenbaumer, senior advisor to the president; former provost and vice president for academic affairs (2011-15) at University of Texas in Arlington, Texas
         Dr. Jay Noren, associate dean, College of Medicine at University of Illinois in Chicago and former president at Wayne State University
         Dr. Helena S. Wisniewski, vice provost for research and graduate studies; dean of the Graduate School at University of Alaska Anchorage, Alaska
         Mr. Ray M. Purpur, deputy director of athletics, physical education and recreation at Stanford University, California
         Hon. Mark R. Kennedy, director of Graduate School of Political Management at George Washington University in Washington, D.C.; and former congressman (2001-07)
         Dr. Nagi G. Naganathan, dean, College of Engineering and Interim President (2014-15) at University of Toledo, Ohio
         Dr. Daniel L. Clay, Dean, College of Education at University of Missouri, Missouri
         Dr. Timothy J. Greene, provost and vice president for academic affairs at Western Michigan University, Michigan
         Dr. Allen Lee Sessoms, distinguished professor, School of Continuing Studies at Georgetown University, Washington, D.C., and former president (2008-13) at University System of the District of Columbia
         Dr. Morgan R. Olsen, executive vice president, treasurer and chief financial officer at Arizona State University, Arizon
Campus visits will be conducted between February 11 and March 3, 2016 at UND, and the candidates will reviewed by the SBHE on March 15.
Sean Cleary is the Editor-in-chief of The Dakota Student. He can be reached at [email protected]