First Nations day celebrated at UND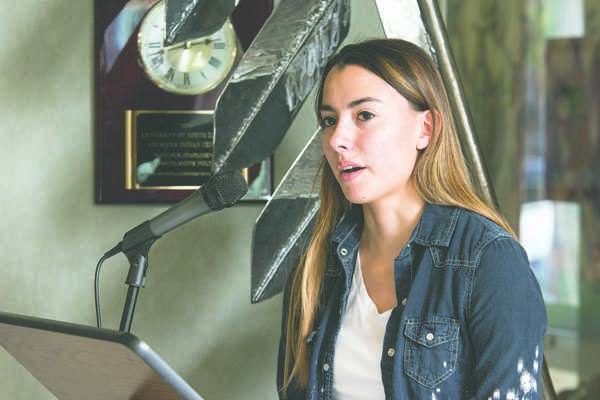 UND student Andrea Kelsch spoke at the First Nations Day program last week at UND's American Indian Center. Photo by Nick Nelson/ The Dakota Student
UND American Indian Student Services (AISS) and the North Star Council hosted a celebration of First Nations Day last Thursday at the American Indian Center on UND's campus.
The event gave UND American Indian students, faculty and staff an opportunity to share their experiences with the UND community as well as to celebrate the diversity and contributions American Indians give to North Dakota. Similar celebrations were held across the state.
Governor Jack Dalrymple issued a proclamation this year declaring Oct. 9, 2015, to be First Nations Day and the month of November to be Native American Heritage Month. The first portion of the proclamation states, "First Nations Day recognizes North Dakota's indigenous peoples and their unique role in shaping the history and culture of this state, as well as the history and culture of this nation."
Dr. Leigh Jeanotte, director of the AISS and member of the Turtle Mountain Band of Chippewa, welcomed the attendees to the event and introduced UND President Robert Kelley to address the audience. "This is a special day for all of us here at the UND, it's a special day for AISS, it's a special day to celebrate our wonderful diversity in our human population," Kelley said. He went on to thank the faculty and staff of AISS for their support and hard work during his tenure as president of the university.
Dr. Linda Neuerberg, Assistant Director of AISS and member of White Earth Nation, presented a "Friends of American Indian Student Services" award to (First LAdy?) Marcia Kelley, President Kelley's Wife, in honor of her service to the American Indian community at UND. President Kelley accepted the award on behalf of his wife, as she was unable to attend the event.
Also receiving the "Friends of American Indian Student Services" awards were Patricia Bohnet, who is the executive assistant to President Kelley, and Joy Johnson, who is the Senior Human Resources Manager at UND.
Wind Spirit Spotted Bear, who is a member of the Three Affiliated Tribes, performed a welcome song that was originally written by her brother, Cory Spotted Bear.
Following Spotted Bear's performance, Amber Finley, who is executive director of the North Star Council, spoke on the work done by the council and other American Indian groups throughout the state. "We decided that our mission would be to empower indeginous people through research, education and outreach, and that's exactly what we do," Finley said. "That's kind of what First Nations day is all about; it's recognizing all the contributions that Native people, especially here in the state of North Dakota, what we have contributed to this state and what we continue to contribute."
Finley also spoke on the diversity among the American Indian population in North Dakota, which includes five different nations. "We are not just one particular tribe, so lot of people don't really understand that. We all come with our own separate languages, we have our own ceremonies, we have our own way of doing things," Finley said.
Lane Page, who is junior at UND and a member of the Turtle Mountain Band of Chippewa, performed a song on the flute that he had written when he first started playing the flute. "I understand that with my musical background, I am able to give somewhat of a voice, if you will, in order to speak what I think my heritage means to me."
The program then consisted of several UND students who gave brief presentations on their experiences at UND. Curtis Long Time Sleeping, who is a communications major at UND and a member the Blackfeet nation, spoke about his future career aspirations, saying "It's my hope to one day develop ad campaigns to combat Native American stereotypes that exist in the media today because we are one of the underrepresented groups."
Siblings Michael and Andrea Kelsch, who are sophomores at UND and members of the 3 affiliated tribes, spoke together following Long Time Sleeping. Michael, who is studying political science at UND, spoke about about how his uncle inspired him to be better man and preserve their culture. Andrea, who is studying medical labrotory sciences and pre-medical studies at UND, told the audience about the challenges American Indian communities face during heath research that she learned about during her summer internship.
Senior Gavin Nadeau, who is studying history and Indian studies and has worked at AISS for the past year, spoke on his research as a McNair scholar at UND. "So last year I picked Native Am women and the great lakes area fur trade  and as presented it at the Northern Great Plains historian conference last week," said Nadeau . After graduating, he plans to his PhD in History with an emphasis in Indian studies and return to teach on the Turtle Mountain reservation.
The program concluded with Neuerburg reading a American Indian folk story called "The Spirit Lake Sea Monster", and following the program the attendees enjoyed a traditional American Indian meal of wild rice soup and "bannock", which is a type of bread.
Sean Cleary is the news editor for The Dakota Student. He can be reached at [email protected]