Softball sliding into the home stretch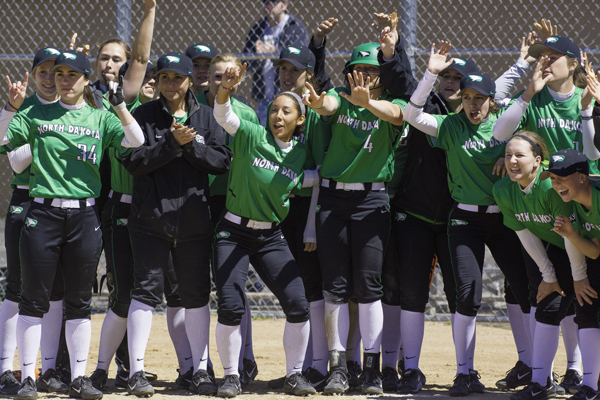 Fighting Hawks softball struggled against Big Sky rival Sacramento State this weekend as the Hawks battled the Hornets. The Hawks finished one and two against the Hornets, winning UND's first ever game against Sacramento State.
UND's play this weekend places them just one game back from qualifying for postseason play. The Hawks have three games remaining and sit third in the conference standing with a 22-24 record overall and an 8-7 record in conference.
It's been a strange season for the Hawks due to inclement weather. The team usually plays at the Apollo Sports Complex, but moved to the Alerus Center for home games after the snowy spring weather plagued the city.
"Our team was able to pull together on short notice to make this event happen so that UND softball could play their home games and keep these events in Grand Forks," Anna Rosburg, General Manager of the Alerus Center, said. "We value our partnership with UND Athletics and love the opportunity to work with them outside of football season."
Luckily the team had success in the Alerus Center at their only home games this season, winning all three against Montana State.
"We're thankful for our administration, event staff and the Alerus for making this unique opportunity available to us," Jordan Stevens, softball head coach, said. "We're excited to play in the venue and it's going to just add to our game-day experience."
The team had five other games scheduled in April for the Apollo Sports Complex that resulted in cancellation due to weather.
This upcoming week, the team will travel to Brookings, South Dakota to battle South Dakota State. The Hawks will battle for a spot in the conference tournament, playing Idaho State at the Apollo Sports Complex this upcoming weekend.
John Gregg is a sports writer for Dakota Student. He can be reached at [email protected].