All tied up
UND unable to win as both games in weekend series against Denver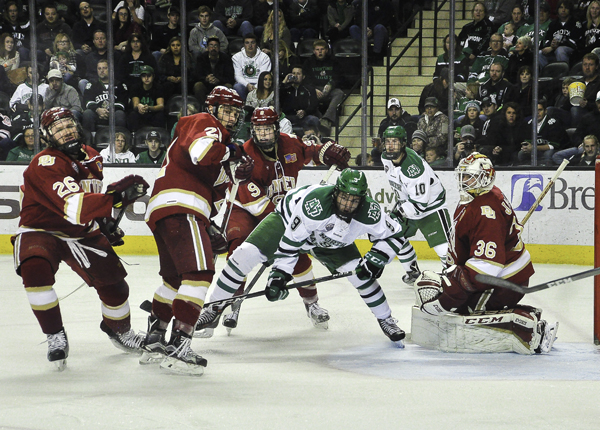 This past weekend, the No. 4 ranked Denver Pioneers traveled to the Ralph to battle the Fighting Hawks Men's Hockey team.
It was a much-anticipated matchup between the 2016 National Champions in UND and the 2017 Champions in Denver. Playing to a sell-out crowd Friday night, UND came out to a strong start though the game ended in a 3-3 tie after overtime. UND goals were scored by Cole Smith, Shane Gersich and Hayden Shaw and Cam Johnson faced 21 shots.
"They had that attack mentality the first period. In the second, after they scored that goal, we kind of backed off a little bit," Head Coach Brad Berry said. "We didn't skate as much and gave room for them to create a little bit more. Overall, having a two-goal lead, you want to win that game."
Going into Saturday night's game, fans had much to look forward to. Though the game was back and forth throughout, the Hawks and Pioneers settled with another tie. A win would help the Hawks improve in the rankings, who now placed at 11, but a tie to a tough competitor in
Denver will help, though Denver will receive two points each night compared to UND's single point.
"There's not a lot of time and space. It was a grind. I'm proud of the way our guys persevered and played resilient hockey all weekend here," Berry said.
The series tie left UND and Denver at par with a 1-1-2 record this season, with Denver getting the extra point in overtime wins for NCHC purposes.
Fans can be pleased that the Hawks are contending with Denver who is sitting atop the standing in conference play. This weekend, UND will host another conference foe, Colorado College. As the season comes near closing, every game will continue to grow in importance for UND as they sit in the middle of the pack for NCHC standings.
John Gregg is a sports writer for Dakota Student. He can be reached at [email protected]