Hockey community comes together during devastating Humboldt tragedy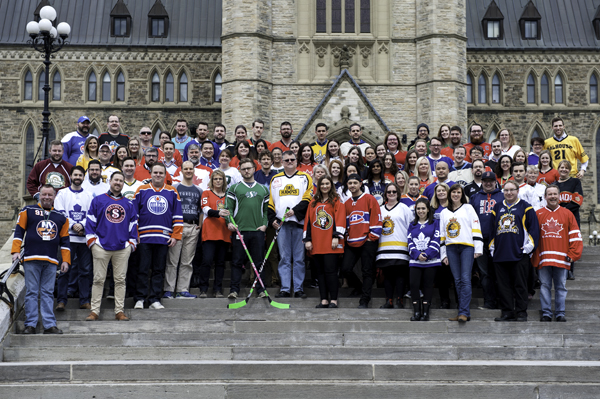 After the tragic bus crash of the Humboldt Broncos ice hockey team, the hockey community and the world paid tribute to the 16 people killed and numerous injured. Just minutes after the news broke, posts and tributes filled social media outlets around the world. "Our national hockey family is a close one, with roots in almost every town – small and big – across Canada. Humboldt is no exception, and today the country and the entire hockey community stands with you," Canadian Prime Minister Justin Trudeau said.
One movement was the #PutYourSticksOut where hockey players and fans around the world left their hockey sticks out near their front door. This was started to pay tribute to the players who lost their lives by offering hockey sticks as a former Humboldt radio announcer states, "the boys might need them … wherever they are."
The NHL and other professional hockey leagues held tributes during games following the tragedy. Moving video displays as well as presentations of respect were displayed throughout the league. 
NHL Commissioner Gary Bettman released a statement following the tragedy,
"Our thoughts are with the players, families, coaches, team management and all those throughout the community who have been affected by the tragedy…the NHL mourns the passing of those who perished and offers strength and comfort to those injured while traveling to play and be a part of the game they all love."
President Donald Trump posted on his Twitter in support of the team, as well as Pope Francis who sent his condolences that were read by the Bishop whose diocese Humboldt is in.
Apart from tributes on social media, crowdfunding efforts have raised millions for those injured and for the families of the lost. The Toronto City News stated that "More than 100,000 donors in 65 countries have contributed to the GoFundMe campaign — ranked among the five most successful campaigns ever on the platform — with donations ranging from $5 to $50,000 coming from individuals, families, sports teams and multinational corporations."
The hockey community and the world have come together for the aid of Humboldt. It's refreshing to know that through social media and other outlets, people are able to make a change for good within minutes of the tragedy like that of the Humboldt Hockey Team.
This time of suffering and sadness has shown us that though borders divide us, the world unites together to come to the aid of the team and their families.
John Gregg is a sports writer for Dakota Student. He can be reached at [email protected].