Sitting down with Shanks
Former UND basketball player looks back at a time before the Final Four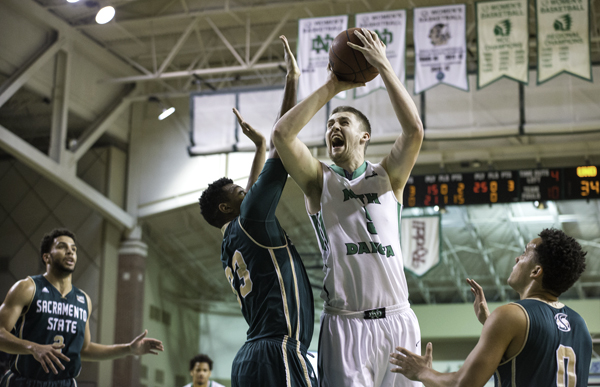 Shanks was a part of UND's historic team that reached the NCAA Basketball tournament for the first time in school history just last year. And after making the tough decision to transfer, he had the experience of his life as he competed in the Final Four. But why did he leave just one year after one of the most successful years in program history? I had the unique opportunity to talk to Shanks about his time at UND and what lead to his departure. 
Shanks came to UND after spending just one semester at Utah State University in the Fall of 2013.  
"Obviously basketball is what drew me to make my home at UND and in Forks," Shanks said.   
After sitting out due to NCAA transfer rules, Shanks was able to play in games that following spring. Shanks went on to have a successful career as a member of the Fighting Hawks and looks back at his time at UND with great admiration and pride.  
"My time at UND was honestly the best time of my life," Shanks said. "While most people say that about their college years, I truly do mean it wholeheartedly." 
He also became a part of history as a member of the team that reached the NCAA Tournament for the first time in school history.  
"Going to the NCAA tournament with my teammates at UND is one of the most fulfilling experiences of my entire life," Shanks said. "We were able to make history and make a great university and community proud of what we had done. Running out onto that floor with our fight song playing about to match up against a great Arizona team is something that I relive daily." 
Shanks has a great pride when discussing his time as a member of UND athletics as well. 
"Unless you are a part of the UND student athlete family, you really do not understand how incredible a group it is," he said. "We all support each other, we see each other everywhere, it really does feel like an extended family."  
During Shanks' time as an athlete at UND, the school was experiencing major budgetary issues, especially around athletics. Though he felt safe being in a program with a long-standing history of booster support, once Shanks heard the news that UND was going to cut some of the programs, it hit him hard.  
"I could not have imagined what it would have been like to be living your dream playing the sport you love at the highest level and then the next day being told that you could not play it at the place that you made your home," he said.  
Of all the cuts made, the baseball team really hit home for Shanks.  
"I had spent a lot of weekends watching those guys play at Kraft Field," he said. "They were some of the most respected and well-liked people on our campus."   
He wanted to make a difference and see if he could help out his friends and fellow athletes.  
"I felt as though that I should step up because I feel like that's what someone would do for me in that situation," he said. 
After careful deliberation with his family, Shanks offered his athletic scholarship money to the baseball program.  
"While it would have been just a tiny piece of the money required," he said. "I was hoping it would be more of a symbol and a springboard to encourage others to not only donate to baseball, but to the other sports as well."  
Though Shanks' selfless act was a great stride in the right direction, the programs were not reinstated.  
"I still do believe that without those sports at UND, there are holes left by those vacancies that will never be filled," Shanks said.  
Though Shanks' time at UND was filled with great memories and success on and off the court, his eyes were set on something new.  
"He (Loyola coach, Porter Moser) sold me on living in the amazing city of Chicago," Shanks said. "Playing in a great conference in the Missouri Valley, being around a group of great guys, and obviously getting the opportunity to play alongside some really, really talented players."  
Shanks's decision paid off. This year, Loyal Chicago was an unlikely team to make it all the way to the Final Four.  
"Going to a Final Four is an experience that so few people ever get the chance to do," he said. "I still don't believe I've fully grasped what we did this past year. We were the Cinderella team that for a few weeks in March, had the eyes of a nation upon them." 
Even though Shanks now wears a different jersey on the court, UND holds a special place in his heart.  
"One of the coolest things for me was the continued support throughout the tournament from the people at UND," he said. 
UND head coach Brian Jones even traveled to San Antonio to support Shanks at his open practice before the big game.  
As for the future, Shanks plans to continue his dream of playing basketball. He hopes to be picked up by a team and play overseas. He has his eyes set on coaching once he is finished playing. 
"Regardless of when that comes to an end I am looking to be involved with the game for the rest of my life as a coach, with being a college coach as my dream job," he said.  
Shanks has come a long way since his time as a member of UND's men's basketball program, but he still attributes a lot of what got him to where he is to his time at UND.  
"Regardless of what the future holds, I will always have UND green in my heart and the times I had at UND will be my most fond," he said.  
John Gregg is a sports writer for Dakota Student. He can be reached at [email protected]