Baseball dreams at UND saved with club team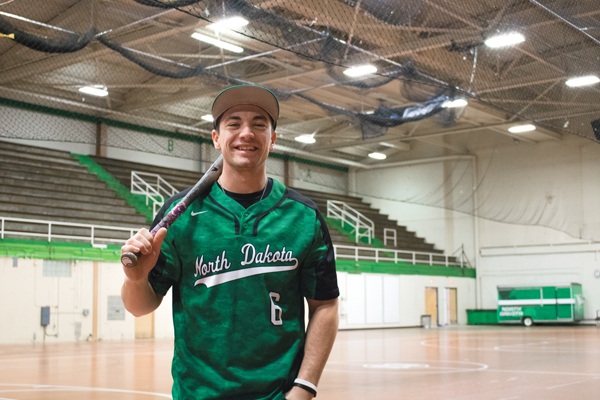 John Gregg, Sports Writer
February 11, 2018|707 Views
As temperatures rise and the snow begins to melt, UND students anticipate the beauty of spring on campus and the opportunities that warmer weather in Grand Forks allows.
While Fighting Hawks Spring athletic seasons begin, one such sport no longer has a presence on campus. The controversial elimination of the UND baseball program in 2016, as a result of university budget cuts, left many fans and athletes furious and questioning the state of the athletic department at UND. Though fans long for the days of UND Baseball, now there is another way to enjoy "America's pastime" in Grand Forks.
In 2015, UND student Trevor Dufner had an idea to bring baseball to campus by forming a club team. Founded November 2015, Dufner contacted the National Club Baseball Association, which is the organization that facilitates the league the team plays in. From there, Dufner got in touch with the UND student organization representative Sarah Kaiser, who helped devise a team constitution as well as fundraise for the club's expenses. From there Dufner, "posted all over social media about the forming, guys expressed interest, and we formed the team and the rest is history."
Now the team plays on Kraft Field in the Apollo Complex in Grand Forks against colleges from around the Midwest including the University of Minnesota, North Dakota State, Minnesota State and South Dakota State.
"There are over 300 teams in the NCBA. We also play some DII, DIII, and JUCO baseball teams such as Crookston and Mayville State Within the NCBA we are in a conference and have the opportunity to play in post season tournaments. With the potential of eventually playing in the Club Baseball College World Series among the best eight Club teams in the country," Dufner said.
The team currently boasts a 21 man roster and is open to more players,
"Someone would join by emailing me directly or our club team at [email protected], or they could learn about the team through word of mouth and show up to a practice. Once the player comes to practice, we will give the individual a try-out period in which they will showcase their skills in drills and team executive board will evaluate that player and let them know if they made the team," Dufner said.
Though UND no longer has its Baseball team, students and the community can be happy to know that America's beloved sport is still alive and well on campus.
John Gregg is a sports writer for the Dakota Student. He can be reached at [email protected].