Injuries plague UND Athletics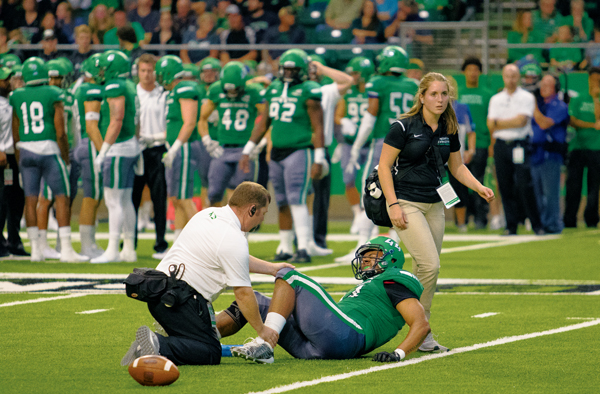 For everyday people, injuries are very unexpected and rare. For student-athletes, injuries are just a part of the game, and are more common than one might think.
According to an ongoing study by the National Athletic Trainers' Association and the NCAA, around 12,500 injury reports are filed for student-athletes each year. This year the University of North Dakota has added to those numbers with injuries to multiple student-athletes, including Donnell Rodgers from the football team and Rebecca Huus of the golf team.
UND sophomore linebacker Donnell Rodgers was injured during the 52nd annual Potato Bowl against Missouri State. Rodgers injury was a high ankle sprain caused from it being rolled over during a tackle. This injury is relatively common in football, and it also has a shorter recovery time than some of the other leg, ankle and foot injuries seen in football.
"The one (injury) I have, probably around four to eight weeks (recovery time)," Rodgers said.
This injury has caused Rodgers to have more difficulty in his everyday life.
"Walking to class is kind of a mission, not fun," Rodgers said."It should be pretty easy, only thing with football is that it's not that many weeks."
Look for Donnell Rodgers to come back later this season and rejoin the football team.
Rebecca Huus injured her wrist during the golf team's latest tournament.
"I overextended my extensor muscle in my wrist which resulted into a sprain," Huus said.
Despite this injury Huus ended up finishing the round under immense pain.
"(The extensor muscle) cracked in the beginning of the round which caused the rest of the round to be miserable," Huus said. "Throughout the round the pain become intolerable, which resulted in changing my golf routine because it hurt too much to even swing."
Huus shortened her preparation time to reduce the amount of time she had to be in pain.
"I did not take any practice swings, and it took a lot of mental strength to continue to hit the golf ball," Huus said.
Huus finished her round with her eyes set on the next day.  Unlike Donnell's injury, Huus's will take more time to heal.
"This injury will take a while to heal because you use your wrist/hands in almost everything during the day," Huus said. "It's not a common injury, but has shown up at professional and collegiate levels due to overusing the muscle."
Because her injury is a wrist injury, everyday tasks are more challenging.
"This injury affected my everyday life by causing it hard to do simple tasks, such as showering, doing laundry, typing while doing homework, etc.," Huus said.
Along with an injury comes the recovery process, Huus must take more time out of her schedule, due to this injury, which has also affected her normal day-to-day life.
"I also have to make more time to attend physical therapy before and after practice, which leaves very little time for sleep, homework and my daily cleaning duties in the sorority house I live in," Huus said.
Rebecca might have a longer recovery time ahead of her, but expect her to come back and compete at the same high level that she has before.
Cole Johnson is a sports writer for Dakota Student. He can be reached at [email protected]