UND hockey's "CLASS" act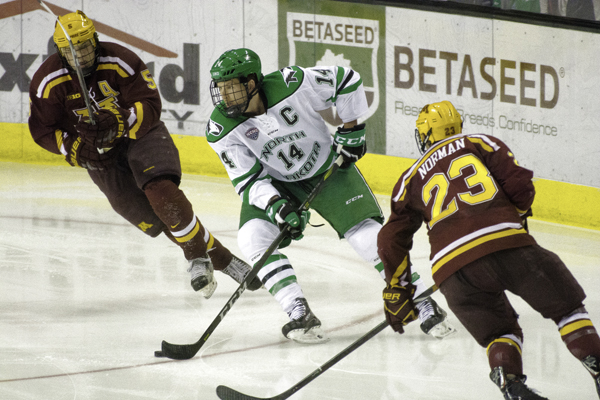 University of North Dakota Men's Hockey captain Austin Poganski is being recognized on the national scale by being nominated for the 2017-18 senior CLASS (Celebrating Loyalty and Achievement for Staying in School) award. The award is handed out annually to the senior student athlete that best exemplifies excellence in the community, classroom, competition and their character.
Poganski has excelled both in the classroom and on the ice, earning a 3.46 cumulative GPA and is a three-time NCHC Academic All-Conference Team selection, and a two-time NCHC Scholar-Athlete. Poganski, a fourth-round draft pick of the St. Louis Blues in the 2014 NHL Entry Draft, is the active leader in career games played for all active NCAA DI men's hockey players and the UND active leader in both career goals and assists.
Poganski has lettered in all three of his years with the team and is coming off a year in which he scored a career-high 12 goals. Before being named captain this season Poganski was also the assistant captain as a junior for the 2016-17 season.
During his time here, Poganski has been a bright spot within the Grand Forks community. Poganski has over 70 hours of volunteer service, helping multiple organizations including North Dakota Special Olympics, North Dakota Champions Club and Grand Forks Youth Hockey.
Poganski is one of 20 nominees for the senior CLASS award. In February, the 20 nominees will be whittled down to 10 finalists. The award winner will be determined through a nationwide voting by the media, coaches and fans and will be announced during the 2018 NCAA Men's Frozen Final Four in April.
Poganski is one of just four players in the NCHC to be nominated for this award. The other nominees are Louie Belpedio of Miami (Ohio), Karson Kuhlman of Minnesota Duluth and Judd Peterson of St. Cloud State.
Belpedio, along with Poganski, is being recognized for being a three-time NCHC Academic All-Conference Team selection. Belpedio has been the captain for the Miami hockey team the last two seasons and is a two-time All-NCHC Honorable Mention. Belpedio helps out at retirement communities and spends time with children at the Children's Hospital in Cincinnati.
Kuhlman, like Belpedio and Poganski, is being recognized for being a three-time NCHC Academic All-Conference Team selection. Kuhlman is also serving as captain for the Bulldogs this season and has an active streak of 128 consecutive games played, which is currently the longest in NCAA DI hockey. Kuhlman has volunteered at multiple elementary schools in the Duluth area and helps out with the Little Wild hockey program.
Peterson is being recognized for being a two-time NCHC Academic All-Conference Team selection, and is currently the captain of St. Cloud State for the 2017-18 season. Peterson is coming off an injury plagued season where he was still able to finish third on the team in goals scored with 11 goals. Peterson is an active member in the St. Cloud community and helps with the team's community outreach event that puts on youth hockey clinics.
The other nominees for the senior CLASS award are Dylan Abood of Air Force, Michael Bitzer of Bemidji State, Tim Davison of Wisconsin, Andrew Dorantes of Ferris State, Jake Evans of Notre Dame, Brady Ferguson of Robert Morris, Carson Gatt of Michigan State, Sam Lafferty of Brown, Alfred Larsson of Merrimack, Merrick Madsen of Harvard, Mitch McLain of Bowling Green, Brady Norrish of Rochester Institute of Technology (RIT), Tyler Pham of Army, Sam Piazza of Michigan, Ryan Schmelzer of Canisius and Jared Wilson of Rensselaer Polytechnic Institute (RPI).
Cole Johnson is a sports writer for Dakota Student. He can be reached at [email protected]