Building on Success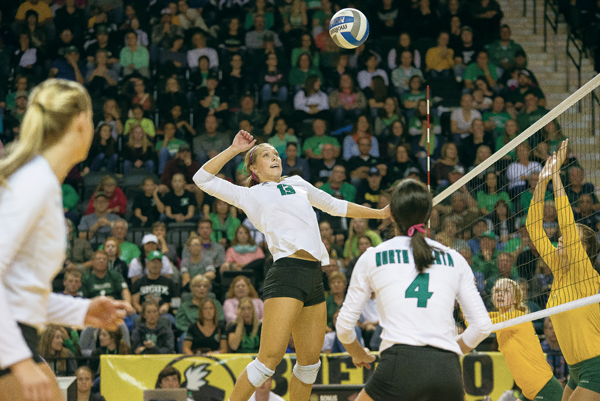 Last year, UND Women's Volleyball became the first team in school history to advance to the NCAA Division I Tournament, this year, they have started hotter than ever. UND has begun the 2017 season at 19-2 and 4-0 in conference play. UND is one of just two teams in the Big Sky Conference that are undefeated, along with Sacramento State, who UND plays Oct. 5.
The game against Sacramento State will be the only time UND plays them this year, and it could determine who hosts the conference tournament at the end of the season.
"It's a really important match, obviously we are both undefeated in the conference," senior setter Sydney Griffin said. "We are going to go into it treating it like every other match, just a normal conference match. Don't put too much pressure on it."
Griffin is the returning 2016 Big Sky Player of the Year and All-American Honorable Mention, but she isn't coming into the season focusing on high personal goals.
"I don't really have any personal goals, more team goals, like winning the conference and hosting (the conference tournament), and going to the NCAA would be my team goals. The individual awards go along with that if we achieve that," Griffin said.
Whatever the outcome the team will look to build upon the hot start this year, with hopes of winning the conference again and returning to the NCAA Tournament.
"Everyone has that goal of winning the conference tournament, hosting the conference tournament and making it to the NCAA," sophomore hitter Ashley Brueggeman said. "We have to focus on each game like it is its own, like last year we focused on each game instead of focusing ahead."
This season Brueggeman is looking to develop a leadership role on the team and continue her hot start to the season.
"I'm trying to find my personal leadership role on the team, and personally all-conference would be amazing," Brueggeman said.
The team isn't taking their early success for granted, as they know how dangerous any of the teams can be on any given day.
"A lot of the teams – Northern Colorado, Sacramento State, Portland State – a lot of the teams are really good this year and can give us a challenge," senior middle hitter Faith Dooley said. "I think across the board I think this is the best Big Sky I have seen so far."
Entering her senior year, Dooley is hoping to continue to hone her volleyball skills and improve upon small inconsistencies.
"My goal each day is to get better at something, I find small frustrations at practice, and take those frustrations, and I make them my goal each day," Dooley said. "When I'm not doing so well at something, I want by the end of that practice to better at it. My goal for this season is to work at the little things each and every day."
Making it back to the NCAA tournament is the biggest goal for the team this year. After a disappointing finish last year with an early loss to Minnesota, the team hopes to return and have a better showing.
"We took our preseason more seriously this year, which will give us a better chance to get maybe a three seed instead of a four seed," Griffin said. "Hoping for a win in the NCAA if we make it there, but the goal is to make it there first."
"Our hope is to get back there, but we have to look at each game first to get back there, so right now we are taking one game at a time," Dooley said.
UND is currently ranked as the 55th best team in the nation, 36 spots ahead of the next Big Sky team, Portland State. They are the favorite to repeat as conference champions, but will need to keep up their same high level of play throughout the entire season in order to repeat as conference champions.
This team knows the challenges they will face and are preparing for each and every one of them. Be sure to keep up with the volleyball team throughout this season as they look to defend their conference championship and return to the NCAA tournament with hopes of a better outcome.
Cole Johnson is a sports writer for Dakota Student. He can be reached at [email protected]