"Put me in coach"
No redshirt needed for Noah Wanzek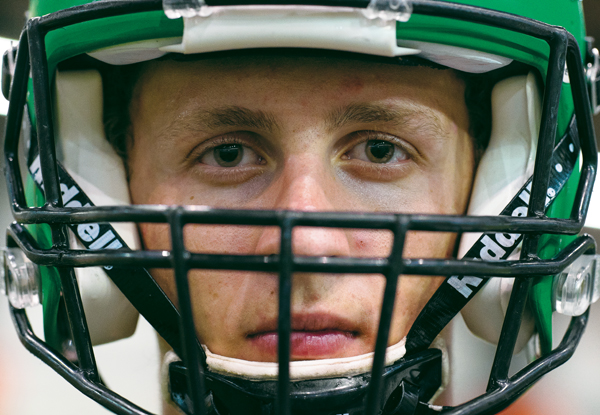 Over the last few years, the University of North Dakota's football wide receiving corps has blossoming into one of the top wide receiving corps in the conference. This progression can partially be attributed to Noah Wanzek. Wanzek has been a solid player for UND throughout his tenure, and has been improving under the radar of the media coverage.
Originally from Jamestown, North Dakota, where he had an excellent career for the Blue Jays. During his senior year Wanzek was named to the North Dakota Class AA All-State second team finishing the year with over 600 yards receiving. He also participated in the annual Badlands Bowl where the top high school players from North Dakota face off against the top high school players from Montana.
When it came to decide upon a school to play for at the collegiate level, Wanzek knew where he wanted to go. Wanzek wanted to continue his football career with UND because he knew and loved what he was going to be getting from the program.
"I knew the culture and the family UND creates, and they provided me with the best opportunity," Wanzek said.
Wanzek began his UND career like most college football freshmen, expecting to redshirt and have a year to learn and improve. Before the season started Wanzek did not think he was going to be playing his freshman year, but found out soon that his redshirt was being pulled.
"I had a good camp, I realized it was possible but coming in I didn't think it was possible because of how good all these guys were," Wanzek said.
This was an unexpected move, but provided Wanzek with in-game experience that helped him grow into the player he is today.
Wanzek finished his first year fourth on the team in receptions and yards with 25 and 367 respectively. Wanzek also finished second on the team in touchdowns finishing the year with three. Getting his redshirt pulled was an unexpected experience for Wanzek but proved useful for the team.
"It was fun. It was nuts. It was definitely a good learning experience," Wanzek said. "It definitely made me better."
UND has come into this year with high expectations after last year's disappointing finish. UND came into the year ranked eighth in the Football Championship Subdivision rankings. After last Saturday's win against Missouri State, UND is currently ranked no. 10. Wanzek is optimistic for this season, as he and the team look to build off last year's success.
"I'm hoping to build off last year, and go further in the playoffs," Wanzek said. "Hopefully reaching that ultimate goal of winning a championship."
Wanzek's game against Missouri State was his best game of his career at UND. He set career highs in receptions, yards and touchdowns with seven receptions, 117 yards and two touchdowns. For the rest of the year Wanzek hopes for big things.
"I want to stay consistent, and see what this team can do," Wanzek said.
Noah and the rest of the team hope they can achieve all their goals for an even better season than the last, but only time will tell.
Cole Johnson is a sports writer for Dakota Student. He can be reached at [email protected]