"Party @ the Hughes"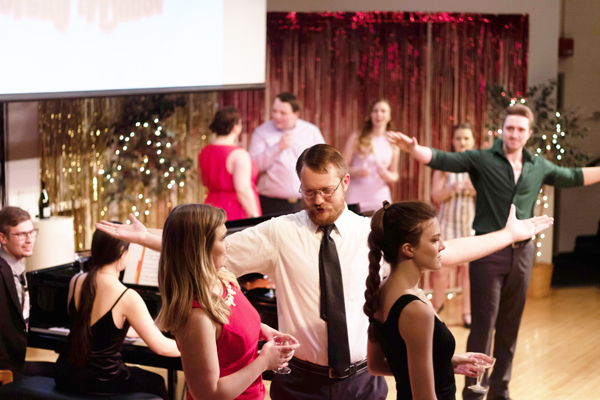 The Hughes Fine Arts Center had an opera party this weekend and all were invited to go and enjoy an afternoon filled with music.
An opera is a form of theatre which music has the lead role. However, there is a distinct difference between an opera and a musical theatre production.
The University of North Dakota's Music Department performed a pastiche that was inspired by Act II of Johann Strauss' Die Fledermaus. It was set in Prince Orlofsky's palace, as the original performance was, but there was a twist. The cast brought the party to the 21st century and created their own characters, relationships and dialogue to build the story and string each of the music pieces together. Although Die Fledermaus was the main inspiration, the plot was completely different but remained entertaining.
Each guest within Prince Orlofsky's palace had a unique and interesting stories to tell. Whether is was the host, a guest or a long distant relative, there was twists at every angle of the plot that kept the audience on the edge of their seat. The audience was dazzled by the strong and talented voices of the cast which was made up of UND students. Kryston Wiseley, Maria Draper, Michael Thompson, David Fehr, Bethany Fehr, Maxwell McCann and Kalli Sonnenburg were the main voices of the cast. However, there was also a special guest, DJ Dieter, who showed not only the cast but the audience as well how to "doing hustle." There was also a pianist, Anne Marques Catarin, who is graduating this spring.
Basing the plot in the 21st century made the opera relatable and comical. The audience fill the theatre with laughter during many parts of the performance, but they remained quiet during each song. Each character had a powerful voice that filled the room. Each sang with confidence and demanded to be heard. The UND Music Department has many talented students but this show seemed to showcase some of the most talented voices on campus.
Some of the music pieces included works by W.A Mozart, G. Bizet, and G. Donizetti.
Although it was set in modern day, that didn't take away from the classical musical pieces that were sung throughout. They were powerful and recognizable to anyone that has heard even the littlest bit of opera music.
The performance was at 3 p.m. on Saturday and lasted about 45 minutes and was entertaining from the moment it started until the moment it ended. It took place in the Josephine Campbell Recital Hall in the Hughes Fine Arts Center on campus. Tickets were sold at the door and priced at $3 for students/seniors and $7 for adults.
If you missed the performance, the UND Music Department has other upcoming events for the Spring semester. Some of these include Voice Recitals, UND Music Student Showcase, Masterwork Concert and more.
To get the complete list of events, you can go to https://arts-sciences.und.edu/academics/music/calendar