Hurricane Irma at table 321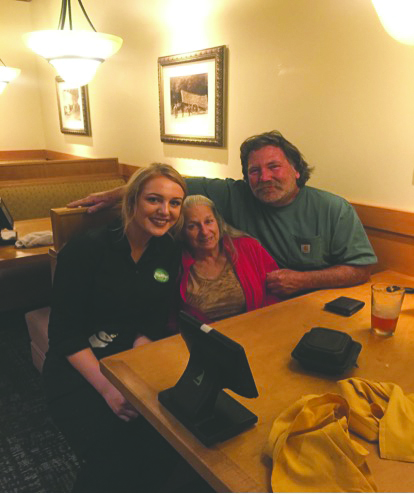 Michaela Schull, Staff Writer
September 15, 2017
Today, I had the extreme pleasure of meeting a man by the name of Rusty, as well as his wife. With coasters in hand, I walked up to table 321, unaware of what the rest of the night had in store for me.
Juggling two jobs (30 hours per week), 15 credits and an internship is exactly what it sounds like: a circus act. I barely have time to breathe or sleep in between all of that. Consequently, I assumed tonight was just another night serving at the Olive Garden: "Would you like another round of breadsticks?"
I arrived at 321 with my usual disposition at the ready: big smile with a side of bubbly personality. "Good evening, folks! My name's Michaela, and I'll be taking care of the two of you this evening." My buoyant nature was returned immediately, without hesitation.
On my left, a burly man with peppery hair responds sweetly. Opposite him a petite woman, with silver hair hanging down her back smiles up at me. The man asks for two limoncellos, a lemon liquor conceived in southern Italy.
Upon my return, he informs me that they are celebrating. As a server, I have gotten accustomed to birthdays and anniversaries. I figured this wouldn't be an exception. Much to my surprise, they had a better reason to toast.
Up until now, the couple had been under the impression that everything they owned was about to be destroyed. Punta Gorda, Florida was directly in the path of Hurricane Irma. After wreaking havoc on the Caribbean, Irma was headed straight for their home, their boat and their business.
This morning, on their route north, they attended a church service, during which the entire church body prayed for them. Not even 24 hours later, the two received a phone call telling them the hurricane turned and that they would be alright.
They spoke with such simplicity. I cried listening to this man, so genuine and soft despite such a challenge. They were with me for two hours, but it was enough to affect a lifetime. This man told me I had made an impact on the two of them, by showing him kind service and a genuine personality. He said he'd never forget this night or me.
"You don't know it, but this is Hurricane Irma. You were involved in it. You were a part of it. This is the real deal."
He gave me his business card and said to come to South Florida with no money; they'll bring me fishing and show me the coast.
These kind, wonderful souls told me I had made a positive impact on them. It was truly a humbling experience, and in turn, they made the same impact on me.
I wrote this note and stuck it in with their bill. The man took the card and told me he was going to frame it in his home. "To Rusty and his wife: I'm going to frame you in my heart. To all of you reading, remember that you don't have to be a celebrity or a politician to make a difference. Additionally, remember that everyone is going through something. Whether that be large or small, be kind to all.
Michaela Schull is a staff writer for Dakota Student. She can be reached at  [email protected]