'97 flood stories published by faculty and students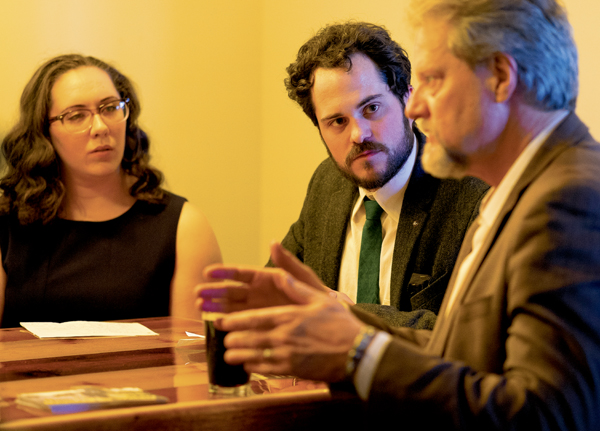 This year marks the 20th anniversary of the Red River flood of '97. For the past two semesters, professor David Haeselin and his students pulled together a collection of stories remembering the flood and compiled it into a book called, "Haunted by Waters." To celebrate the digital release of their book, an event was hosted at Rhombus Guys Brewery Thursday, April 20.
The event was an open discussion between Haeselin—as well as several students—and locals who actively assisted in the crafting of the book. Topics of discussion ranged from the sharing of people's experiences during the time of the flood, to the editing the book went through as it was being made.
Haeselin, who moved to Grand Forks in 2015, has always been interested in learning the history of the places he has been. So when approaching the flood project, Haeselin was eager to study up and get the information needed by asking locals their stories and reading books from the archives.
"I moved here and I tried to research it, I tried to understand it," Haeselin said. "I felt like I was hitting a wall. I started going around asking the locals about the flood, but they weren't telling me their stories because I think everyone had seemed to have moved on. Me being an English teacher, I'm very interested in history and stories. So I felt like I really needed to figure out the story of this event. But once I realized this piece was going to be a little more formal, I began to read as many books as I could."
The first semester—fall of 2016—Haeselin and his students worked on coming up with the idea and digging through the archives. The second semester they spent putting it together, copy editing and making sure it's nice and polished before publication.
Many who attend the university are unaware of the flood or only know the general story through what the locals say. Haeselin feels it's important that everyones story is heard and that we don't forget our history.
"The goal of this book is to create a conversation," Haeselin said. " So it really feel like we are starting to do that. It won't be finished today, but I feel as though it's just beginning. We've talked about how it was a little awkward for us, cause we were trying to speak for people through the book, but really we just wanted to speak with the people. It's only in those moments like tonight, we start to feel the impact of it all."
The discussion began at around 6 p.m. with just a few locals surrounding the table filled with Haeselin and his students. As the discussion carried on, more and more locals came by and tuned in to hear what other locals had to say. Some people watching even decided to participate by pulling up a chair and engaging in the conversation.
Haeselin believes learning history is essential to growth, and forgetting it is not something we should do. When asked why it's important we remember the flood that caused such destruction to the city of Grand Forks, Haeselin had this to say:
"In order to understand ourselves, we need to understand where we came from. And in the modern world, we don't all grow up and die in the same place anymore. For me personally, it was important for me to understand what Grand Forks went through, so I could also understand where I live today. I thought this was important for my students, editors and student readers as well."
When conducting his research, Haeselin remembers a story a colleague of his had told him. Professor Gordon Iseminger, Chester Fritz Distinguished Professor of History at UND, had shared with Haeselin his experiences and memories of the flood, and how he had to fight to keep his home from being taken away due to the damages left from the aftermath.
"He's the oldest serving faculty member at UND and an active member of the Historical Preservation Society in Grand Forks," Haeselin said. "He told me this story about fighting for his house. His house wasn't destroyed during the flood, but it was in enough damage to where the city wanted to buy him out. He decided 'no I'm not going to let them take my house and he fixed it up, planted his old garden and got the city inspector to come. When he arrived he made an emotional plea and ended up winning the fight against the city."
Another story he remembers hearing, was from one of his own students. Haeselin claims this project was maybe able to open emotional doors students had shut as a result of the flood and what it may have done to their homelife.
"One of my students grew up in Grand Forks and had moved here just before the flood," Haeselin said. "So he kind of repressed and didn't really think about it too much. As we were writing and creating the book, he was able to reconcile and relay some of those memories. I thought it was really cool how he could go through the process of looking back in history, to discover some things about himself that maybe he had forgotten."
Haeselin has a lot of fond memories working on this projects with his students, as well as other faculty member who had a hand in the creation of this book. Haeselin credits them to being the reason this project was able to happen in the first place.
"It wouldn't be a book without my students and editors," Haeselin said. "I had a lot of help along the way from a lot of different people. I thought this would be a fun opportunity for me to work with my students on a project, and they definitely rose to the challenge."
"Haunted by Waters" is available to purchase digitally and download. The print version of the book will be available on May 1.
Sheldon Hatlen is a staff writer for The Dakota Student. He can be reached at [email protected]