North Dakota Clothesline Project at UND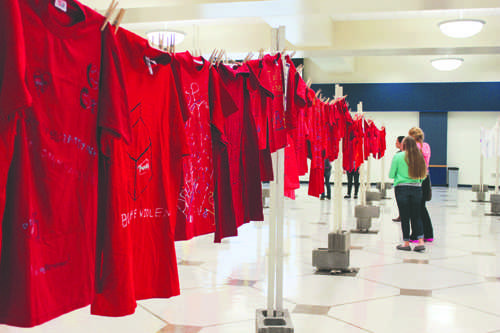 The 21st annual North Dakota Clothesline Project has come again to UND. It began on Monday, October 3 and will be here until Friday, October 7. It is held in the Memorial Union Ballroom on the 2nd floor. Monday through Thursday, it is open from 8 a.m. until 8 p.m. and on Friday from 8 a.m. until noon.
For those who have never heard of the Clothesline Project, it is an event that serves to spread awareness of violence of all forms and to educate the community about the violence that occurs here in North Dakota. With clotheslines holding t-shirts and shawls filling the room, this event proves to victims that they are not alone.
All of the t-shirts and shawls are painted, drawn, and decorated by North Dakotan victims of sexual violence or family and friends of victims who did not survive. Then they are hung up by clothespins on clotheslines, giving the event its name.
In addition to the t-shirts and shawls, there are sounds that consume the room every couple of seconds. The sounds of whistles, bells and gongs go off at different intervals, echoing statistics of sexual assault.
For those who are family members and friends of victims who did not survive, this project can be used to help with the healing process of losing a loved one.
The Clothesline Project is not restricted to the UND campus because of its location. People from all over the community come to witness such a moving event. Every year, the local high schools and middle schools make a trip to see the t-shirts. Although things like this can and are taught in a classroom, experiencing the event in person has a greater impact, especially on younger people.
This event is not native to North Dakota. The very first one took place in Cape Cod, Massachusetts in 1990, according to The Clothesline Project's official website. It has since spread worldwide and is continuing to grow.
Rachel Conx is a staff writer for The Dakota Student. She can be reached at [email protected]