Sickies Garage is sick . . . in a good way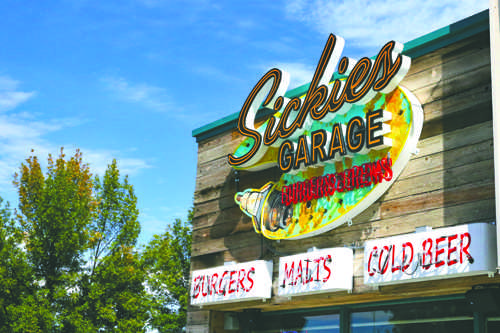 "We can never go to Sickie's. It sounds gross."
These are the exact words  my girlfriend said to me as we drove past Sickie's Garage on Columbia. Call it a lesson to never judge a book by its cover, but it was most definitely a lesson worth learning.
Sickie's, broadly, is a sports bar that describes itself as a place for "Burgers and Brews." Well, I am not 21 years of age, so I can only comment on half of the claim. In all honesty, no one needs the drinks to enjoy this place.
The focus on a restaurant should be the food, where its burgers are some of the best in town. From burgers with glazed donuts for buns, to burgers with macaroni and cheese as a topping, creativity fills the kitchen with flavors for all of your weird friends to enjoy.
Their more popular burger is creatively called the "Sickies Burger," which is towered with bacon, cheese, pulled pork, a fried egg, two onion rings and BBQ sauce.
From there, there's the Twin Cam (two grilled cheese sandwiches as the buns), the Nodak (fried jalepeños, BBQ sauce and Gouda cheese) and the Chili Cheese Fries Burger (self-explanatory, just warn your colon).
Before the burgers reach the table, the first page of the menu might entice you to try an appetizer or four. Sickie's Traditional Wings get their own special sticker on the menu, so you know they're good. They have the classic BBQ, Buffalo, Sweet Chili and whatnot, but don't try to overlook the dry rub options of Ranch, Cajun or Spicy Buffalo.
The cheese curds are state fair worthy, just be sure to eat them early. You deserve them more than your friends do, and it turns into trying to eat breaded pencil erasers after half an hour.
As long as you're not lactose intolerant, the malts are a must. These people actually understand what a malt is. It's not ice cream and oreos in a blender, it's a masterpiece in a cup. Even though your stomach is aching and you already have an issue with a lot of dairy, give it a try. They truly are addictive. Just writing about them makes me reach for my keys to drive back and get one.
The atmosphere is fitting for those who enjoy sports, but also for those who don't like people talking while watching sports. It's a smaller, more open arrangement where giant flat screens line the walls, giving every seat a good view of whatever is on.
For those who enjoy hearing the play-by-play, the audio makes Joe Buck as clear as the guy sitting next to you.
Prices almost surely play a role in deciding where to take your friends. After all, all you wanted to do was hide from your sociology paper, not to take out another student loan to cover dinner. Luckily, most of the meals top off around $10 (even that glazed-donut bun thing).
The place does have the word "garage" in the name, so naturally there's an assortment of old and new car themed accessories and pictures on the wall.
I'm not talking "old-school license plates" old, I'm talking "young Michael Waltrip pictures" old. When there is a NASCAR race on, and that's not really your thing, go on a Thursday or Saturday night where you can talk football with the other people chewing on those amazing French fries.
***** 5/5
Jacob Notermann is a staff writer for The Dakota Student. He can be reached at [email protected]