Vote for Chase Johnson
Why I think voting for a felon is a moral alternative to student government's corrupt election system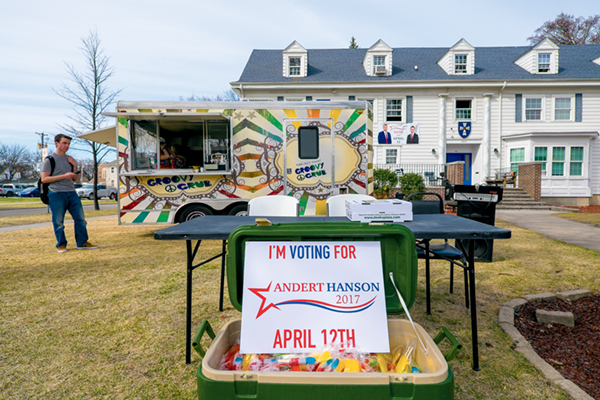 Every year, the UND student government hosts an election system so rigged and compromised it makes George Washington roll in his grave.
Tomorrow, the student body will send an email containing a link to vote for the next student body president. This positively promotes convenience for the students in the hopes of boosting voter turnout numbers.
I support increasing voter turnout as much as the next voter because voting is the bare minimum when it comes to civic engagement. On the flip side, this online convenience has been bent to hurt the most basic electoral morality.
"
I said it last year and I'll say it again: no one can vote responsibly when the ballots are treated like a fill-in-the-blank worksheet with answers right next to you.
— Jacob Notermann, Staff writer
No doubt, there will be campaigns with tables scattered throughout campus. These tables will be covered with campaign logos, food and computers. These computers are the worst part of the experience. For those who are new to voting for UND student government, these computers will be used as voting booths hosted by the campaigns themselves.
The campaigners will lure you to the table by offering food, asking if you have already voted, then push you in front of the computer to vote. You will be surrounded by campaign materials and the candidates themselves, as well as lists of the candidates that the campaign supports.
I said it last year and I'll say it again: no one can vote responsibly when the ballots are treated like a fill-in-the-blank worksheet with answers right next to you. It's bribery and is similar to paying the Irish to "vote early and often." They will give you food for your vote. Which leads me to the ultimate solution: VOTE FOR CHASE JOHNSON.
For those who need a refresher, Johnson was the former UND Student Government Treasurer who was arrested about a month ago on embezzlement charges. Meaning, he is automatically unqualified to be the student body president.
So, if you are approached by a campaign covered in campaign materials, I ask you do this: DON'T VOTE FOR THOSE CANDIDATES. WRITE IN CHASE JOHNSON. For everything. President. Senators. Representatives. Dog Catcher. It doesn't matter. Write in Chase Johnson.
The tsunami of votes for Johnson will be our way of telling the university, the student government and the election boards that we are tired of these students treating our elections like something out of an Upton Sinclair novel.
If you feel confident in a candidate and actually believe that they will do a good job then by all means, vote for them. Informed voting is the backbone of any democracy. However, many students aren't familiar with any of the candidates and choose not to vote simply because of this. This is also an appropriate thing to do if information about candidates hasn't spread to your corner of the university.
With all of that being said, these campaigns know most students don't know and don't care about these elections. So, they exploit this by "incentivizing" students to vote with pizza. If the only thing a voter knows about a candidate is that they were given pizza to vote at their table, that's bribery to vote for the list of candidates listed next to the computers.
If the university wants to give incentives for voting, offer extra credit. Students are offered bonus points for taking part in online surveys all the time. The difference is that it's the institution offering incentives to vote, not the campaigns themselves. This leads to unbiased leaning towards candidates no one knows or cares about.
The other moral complication is the riddle of issues on behalf of the Student Senate Election Committee. This committee has changed rules in the Election Code without making public announcements.
So when you walk through campus tomorrow surrounded by campaign materials, I want you to do this simple thing: walk up to the table, grab a slice of pizza and write in Chase Johnson into every blank box you can.
And if you can't write him in, take all the pizza. At least then, the bribery can stop.
#VoteChase
Jacob Notermann is a staff writer for Dakota Student. He can be reached at [email protected].