Fighting Hawks split weekend with Texas teams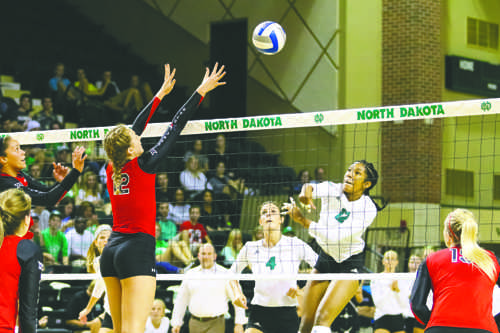 Every coach will tell you that it is an excellent feat to challenge the team early on in the season. UND head coach, Mark Pryor, put together a schedule that was going to test the Hawks very early on in the season.
With a heartbreaking loss to SEC challengers, Ole Miss, in the Betty Engelstad Sioux Center just two weeks ago, Pryor and the squad were looking for that signature win in their own building, as they would welcome Big 12 foe Texas Tech last Saturday in the Betty.
Texas Tech would make the trip up to North Dakota along with fellow Texas institution Texas-El Paso, as those schools would alternate and face both NDSU and UND on Friday and Saturday.
UTEP visited the Betty Friday night looking to take down UND. The Hawks put up their best fight as they would sweep the Miners 3-0.
Sophomore Jordan Vail led UND with 10 kills without a single error, defeating UTEP in back-to-back sets, 25-19, 25-18 and 25-21 Friday evening at the Betty. Vail, who transferred from Baylor this season, also added three total blocks for the win.
"I thought tonight might have been one of our worst offensive outputs but defensively, we out-dug an opponent so our defense is getting better," Pryor said. "Tomorrow night is a huge test, Texas Tech is big." The following night, Pryor and the squad would welcome the Texas Tech Red Raiders. UND's strong net presence did not seem to bother Texas Tech as they would hit a whopping .327 en route to sweeping UND, 25-20, 25-18, and 25-22. UND's Faith Dooley had 14 kills while Tamara Merseli and Chelsea Moser each added eight kills for the Hawks.
"In the first and third set, we definitely started slow," Pryor said. "Offensively, they weren't able to stop us in stretches, but we just shot ourselves in the foot with dumb errors. We've got to do a better job with that. I've got a feeling we'll get that corrected in the next couple weeks as we head into conference season."
Sydney Griffin chipped in 36 assists for the Hawks while Alivia Fraase and Merseli added 11 and 10 digs, respectively.
Texas Tech would come out with the win, but UND put on a performance that did not go unrecognized.
"It's great to end the weekend with another road win against a quality team," Texas Tech head coach Tony Graystone said. "North Dakota was a real challenge, but we played our best match of the season and were able to hold them off every time they made a run. I was really happy with our ball control and offensively, Lauren (Douglass) and Toni (McDougald) were tough to stop."
The squad will pack their bags and head on the road for nine matches. These games will be a big indication as to whether UND is actually ready to be a major contender in the Big Sky.
The nine game road trip continues with a match  at South Dakota State on Tuesday before heading into three games at the Diet Coke Classic at the University of Minnesota. UND returns home for Big Sky Conference play the following week with a home match against Southern Utah on September 22.
Hunter Plante is a sports writer for The Dakota Student. He can be reached at [email protected]