Making dreams a reality
A week after making history by becoming Big Sky regular season champions, the University of North Dakota Fighting Hawks volleyball team kept the ball rolling this past Saturday night at the Betty Engelstad Sioux Center. The Fighting Hawks won the Big Sky conference tournament to advance to its first ever Division I NCAA Volleyball tournament.
There were eight teams that at the start of the tournament hosted in Grand Forks, N.D. to try and do exactly what UND accomplished this past weekend. The Fighting Hawks swept three teams en route to winning the conference tournament. What a weekend it was for Mark Pryor and his Hawks.
"I just have so much joy and pride for these 17 young women," UND head coach Mark Pryor said. "I am so proud to see them accomplish a goal that they put forth at midnight 102 days ago. We talked at our first practice about 'if you want to be last, you have to be willing to be first,' Pryor said. "First in the practice gym, first to push yourself harder internally, first to recognize and resolve conflict, and first to recognize your areas for growth. This team did that every step of the way."
"Everything that this team has put their mind to, they have accomplished," Pryor said. "It is really that simple. These young women deserve all the credit."
Pryor is right about that. On Saturday, his Fighting Hawks were soaring high above the net all night long. UND set the Big Sky conference tournament record for hitting percentage in the Big Sky Final. That shouldn't surprise anyone, however, as UND has done that all year long.
Tamera Merseli led the Fighting Hawks with 11 kills, and Faith Dooley wasn't far behind, as she finished with 10. Dooley also got to 1,000 kills for her career last Saturday night. Standout freshman Alivia Fraase finished with 22 digs for the defense.
"
Everything that this team has put their mind to, they have accomplished. It is really that simple. These young women deserve all the credit.
— Mark Pryor - UND volleyball head coach
It was a wild and raucous crowd at the Betty, and they were into it from the first serve to last serve, and it made it hard on their opponent, the Northern Arizona Lumberjacks. To give the Lumberjacks credit, they fought extremely hard and gave UND a run, but they didn't really have an answer for the two-headed attack of Chelsea Moser and Dooley.
Junior Sydney Griffin was feeding the ball around to her attackers all night, finishing the night with 36 assists, eight kills and two blocks. Griffin was named MVP of the regular season.
UND had four players be named to the Big Sky all-tournament team. Griffin, Moser, Merseli, and Faith Dooley, who was also MVP of the tournament Coach Pryor said that this conference title was won a long time ago.
"Tonight's match was not won simply tonight. It was won with each 6:30 a.m. lifting session. It was won with each monotonous practice drill that they completed," Pryor said. "It was won with how they made choices to treat teammates well, and to remain focused and dialed in to obtain their goal."
UND will represent the Big Sky conference in the NCAA tournament. They will find out their fate this Sunday at 9 p.m. on the NCAA Volleyball selection show on ESPNU.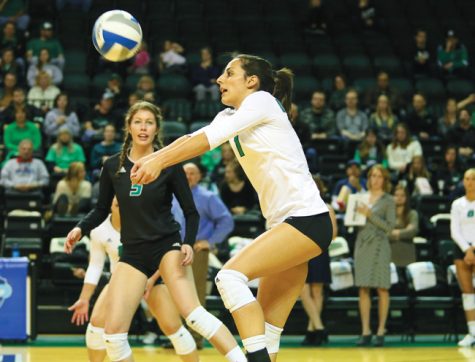 Hunter Plante is a staff writer for Dakota Student. He can be reached at [email protected]