Betty Englestad Sioux Center awaits students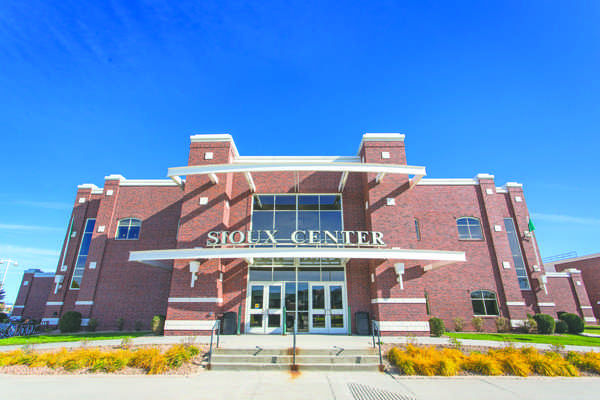 The Betty Englestad Sioux Center isn't the most celebrated arena on campus, but it is still a great place for sports. Most of UND's pride and fame derives from the success and tradition in sports. It's home to one of the most decorated hockey programs in the country, highly spirited nickname debates, and celebrates its tradition as the Taj Mahal of college arenas. But it's one of the lesser-popular arenas on campus that deserves acknowledgement.
In pure terms of look, "The Betty" is a beautiful arena with few flaws. The first thing you see walking into the main entrance is beautiful brick walls and marble flooring. Yes, marble flooring. I was raised on the purple-painted concrete walls of the Metrodome and the parking garage some call the Target Center. This fancy lobby wasn't made to raise expectations for an average facility like some hotels try to do; The Betty had earned its marble.
With just a hop and a skip down a blank hallway featuring a humble concessions stand, the energy of the arena hits you in the chest and leaves your eyes to wonder what part of Narnia you were in. Every seat from the floor to ceiling is padded, a commodity most appreciated to a certain writer with back issues. On the northern and southern sidelines are the Student Sections; standard grandstands plastered with banners from Buffalo Wild Wings.
The stadium itself is alluring and functional. Despite the two skinny hallways it takes to travel from the lobby to the arena, moving around is very easy. There is plenty of walking space behind the student sections, and the hallways are only an option when entering or grabbing a halftime hotdog.
But the issue with The Betty is the student sections. In that, there are no students in them. While at the Volleyball game against UC Davis last Saturday, the student section mainly consisted of UND football players dressed up in beach attire. Football team shenanigans are a cornerstone for UND sports. Besides that, the seats on the sidelines are at the most half-filled with alumni, the players' parents and a congregation of less-than-enthusiastic students hiding from homework. UND has some of the best sports teams in the nation and some of the best facilities. Some schools are lucky to have just one, but Grand Forks hit the jackpot.
UND is graced with amazing athletes and amazing facilities to make everyone feel as though they are an alumni. For one reason or another, students are not finding the value in Fighting Hawk athletics. The games are free. The seats are comfortable. They play after at least after 2 in the afternoon. There are no reasons not to go… unless you're a chemistry major. In which case, we understand.
Jacob Notermann is a staff writer for The Dakota Student. He can be reached at [email protected]