Fencing club holds open tournament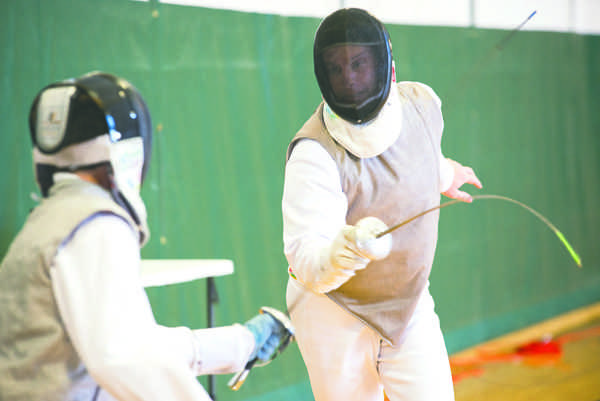 Clay Willoughby and Quinn Shynkaruk duel on Saturday at the UND Wellness Center. Photo by Nick Nelson/ The Dakota Student
Last Saturday, the UND Wellness Center was filled with sword combat as the UND Fencing Club hosted the second annual Winter is Coming Fencing Tournament.
This event was open to everyone and no membership of any kind was required to play in the tournament. Throughout the day, the UND Fencing Club had from Fargo, Moorhead and North Dakota State University participating in the event. In addition, several students from the KIN 105B Beginning Fencing class were in attendance.
UND Fencing Club adviser Clay Willoughby was the chief organizer for this weekend's event and intended for students to gain a better understanding of the sport during their time at the tournament.
"The goal of this tournament is for students to gain experience and to have fun," Willoughby said. The fencing tournament certainly offered a unique opportunity for students to practice their skills as the tournament hosted events in unsanctioned mixed epee and unsanctioned mixed foil.
While some students came to the tournament with more experience, some students were only just beginners.
"Some experience was of course needed to participate in this event, but some students from the fencing class have only been fencing for eight weeks," Willoughby said.
The restricted experience for some fencers didn't seem to be an issue as all the fencers in attendance seemed to be having fun while sharpening up their skills.
"This event is practice for the more experience fencers, experience for the less experienced fencers and fun for all," Willoughby said.
Between the matches, Willoughby said his favorite part of the event was letting students gain more experience with fencing.
"I enjoy getting people exposed to the sport of fencing, it is the only sport I'm aware of that anyone, from 8 to 80+ can participate in," Willoughby said. "I hope those who attended were able to learn more about the sport and competition of fencing."
After the event is over, the club hopes to gain more student attention.
If students are interested in fencing, Willoughby encourages students to attend a club meeting for a chance to fence firsthand.
The Fencing Club is one of the oldest student organizations at UND and teaches several styles such as French foil and epee, Spanish rapier, and Hungarian sabre.
"We are a fun organization open to all levels of experience,"  Willoughby said.
Amanda Hefner is a staff writer for The Dakota Student. She can be reached at [email protected]