Wilkerson ribbon cutting scheduled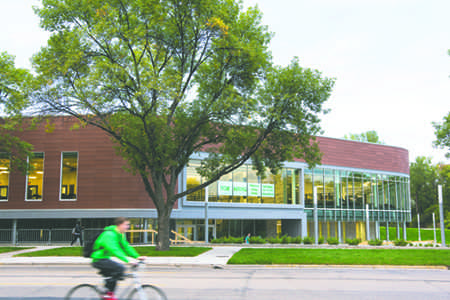 Wilkerson Commons will host a ribbon cutting ceremony on Oct. 2 to celebrate its reopening. Photo by Nick Nelson/ The Dakota Student
There will be a ribbon cutting ceremony Oct. 2 to celebrate the reopening of Wilkerson Commons. UND Housing and Dining Services will host the event in the lounge of the first floor of the building at 10 a.m.
Wilkerson Commons is already open for business for students who want to eat in the new cafeteria and use the other facilities.
Construction on the renovation of Wilkerson Commons, formerly known as Wilkerson Hall, began in late summer of 2014.
Originally projected to take up to 24 months, the renovation finished several months ahead of schedule.
The new building is a welcome addition to campus. Some of the cooking facilities in Wilkerson were close to 50 years old. The new facility will allow for the university to centralize food production on campus, which will increase efficiency of campus dining services.
According to UND's website, "The servery will include a large salad bar, home cooking, pasta, international, grill, pizza, and chef display cooking area. These areas will include a rotisserie, a smoker, and a Brazilian Churrasco BBQ grill." The dining hall will also be able to better serve students who have allergies to various food products.
All of the previous areas available to students, such as study spaces, gaming area, mail pickup, computer lab, and counseling are still available at Wilkerson Commons following the renovation. The building will continue to open 24 hours a day after opening.