Phi Delta Theta returns to UND
GREEK A House suspended from campus since fall 2011 is once again recruiting members.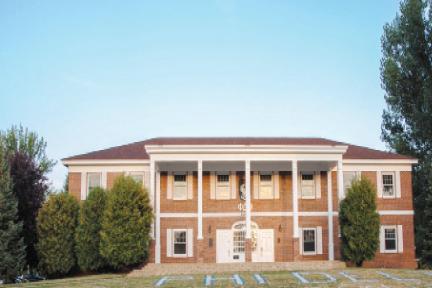 Phi Delta Theta fraternity house, which has begun recruiting again after a year and a half suspension from campus. Photo by Caitlin Duggan.
Two years ago, Phi Delta Theta fraternity was suspended from UND's campus following a string of drug charges and citations being issued to members and one pledge.
Now, the fraternity is once again recruiting.
Phi Delta Theta has begun looking for new members to be a part of its re-founding class. As of Tuesday, six men had made the decision to become part of the chapter, but in a way different than most.
"The expansion process is completely different than rushing or pledging a fraternity on campus," Expansion consultant from Phi Delta Theta Headquarters Bob Wolfley said. "As a re-founding father, individuals get the chance to build and mold something of their own as they re-establish the oldest fraternity on campus. It is a rare opportunity to become a re-founding father, and it is an experience that is very rewarding."
Wolfley along with another expansion consultant, Michael Boultier, will be at UND the remainder of the fall semester to recruit an entire new group of Phi Delta Theta men and to meet with various campus officials and organizations.
From then on, the men will form a colony, or probationary chapter, most likely in December and then they will work toward receiving a charter which they hope to get in Fall 2014.  A charter is an official document from the national fraternity declaring it an official, full-fledged chapter.
"We are excited to have them back on campus," said Alyssa Walker, UND Coordinator for Fraternity and Sorority Life.
"This is going to be a good thing for UND," said Derek Steiner, an alumni who was an active member when the fraternity's charter was revoked.
Steiner also said that Phi Delta Theta is recruiting members who are focused on leadership and academics.
Wolfley said the fraternity has been recruiting members mostly by taking referrals from various people around campus such as university administrators, sorority members, alumni and other student leaders. From there, Wolfley will contact the student and inform them of the referral and schedule an interview to see if there is mutual interest.
Criteria to receive a bid and become a Phi Delta Theta re-founding father is to  have a GPA  above 3.0, be involved on campus, have past leadership experience, be a benefit to the organization, have certain values and a vision of the chapter's future.
"Phi Delta Theta is a good, positive house to go into," Steiner said.
Walker, Dean of Students Cara Halgren and Assistant Dean of Students for Involvement and Leadership Cassie Gerhardt have been working with the Phi Delta Theta Headquarters and local alumni over the past two years to ensure that the fraternity would have a successful re-colonization.
"It is our goal, as well as the goal of the Interfraternity Council, to support Phi Delta Theta in any way possible to ensure that their re-colonization efforts are successful," Walker said.
If interested in learning more about Phi Delta Theta, men can stop by the Student Involment & Leadership Office, vist it's Faceboook page, www.facebook.com/UNDPhiDelt. or Bob Wolfley at [email protected].
Ashley Marquis is a staff writer at The Dakota Student. She can be reached at [email protected]