Battle of the beards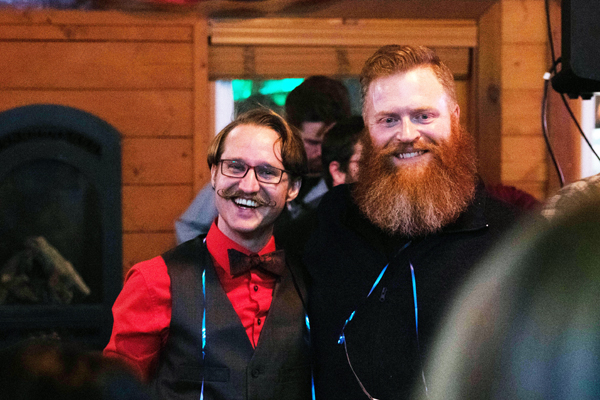 22 beards, some wizard-like in length, others mere mustaches, competed on Thursday night at The Blue Moose for a chance to win the grand prize.
This was the Second Annual Surly Craft Beards event to be hosted by The Blue Moose. It was once again well-received by the public, who packed themselves into the restaurant to take part in the event.
Megan Hedstrom, the Front of House Manager of The Blue Moose, explained that the idea behind the beard competition was born out of a single misheard word. They took the idea and ran with it, creating a panel of four judges and coming up with prizes for the top three winners in each category.
"There are two categories, partial beard or full beard. We have four judges on our panel, Amelia and Corey, who are our reps for Surly. And then my brother, Josh Bleninger–he is working over at the Josef's School of Hair Design here in Grand Forks–and his wife Alyssa, who works at the Avant Salon downtown," Hedstrom said.
The judges scored each beard based on four categories: length, body, uniqueness and upkeep. They took their time with each competitor, sometimes requesting to feel the beard in order to better gauge its volume and other times questioning the contestant's taste in music, most commonly by asking whether he preferred The Beatles or The Rolling Stones. It took about an hour and a half for the judges to get through the contestants and then place them accordingly.
While the judges worked on placing the competitors, the crowd was treated to live music performed by a local band called The Dank, who captivated the crowd with three original songs before the judges returned with their results.
"The top six competitors win a beard kit. Third place in both categories wins a $25 gift card to The Blue Moose. Second place wins a $50 gift card to Happy Harry's. And then first place in each category gets a Surly tour of the brewery in the Cities on us. It's a good prize, I'd do it if I could grow a beard," Hedstrom said.
The Blue Moose tries to host events all throughout the year in order to bring more people from the community together, with Surly Craft Beards being their first of this year.
"It does have people come together that do have things in common, such as Surly Craft Beards, and also we just like to be a family-oriented restaurant. We like to think of this town as our family, so the more we can have people over here and get to know them, the better," Hedstrom said.
It's important to Hedstrom that the The Blue Moose continues to foster a family friendly environment, and she believes that the workers are the reason why the restaurant stays that way.
"I think it starts with how close-knit our staff is," Hedstrom said.  "I would not trade our staff for the world, they are amazing. And they want people to come in here and feel like this is home away from home."